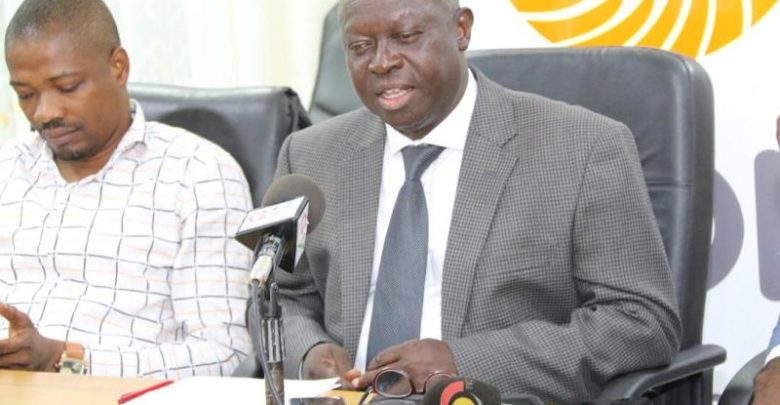 Indigenous oil marketing giants, Ghana Oil Company Limited [GOIL], has pumped GH₵50,000 into the 43rd Sports Writers Association of Ghana [SWAG] Awards Night.
The package includes, cash component of GHc40,000 and GHc10,000 worth of products.
It was a 25% increase in the previous package and makes GOIL one of the longest partners of SWAG over the last six years.
GOIL has also becomes the biggest contributor to the annual event so far as SWAG prepares for the 43rd edition of the longest running sports event in Ghana, fixed for 28th April, 2018 in Accra.
Mr. Alex Adzew, Chief Operations Officer of GOIL congratulated SWAG for consistently recognizing and rewarding the hard work of sporting men and women and individuals, who distinguished themselves in their various sporting disciplines.
Mr Adzew congratulated SWAG for the good job done over the years and noted that GOIL was keen on using every opportunity to help develop sports, which brings a lot of unity to Ghanaians.
"GOIL has always pledged to the development of sports in the country, thus the constant help in various forms to SWAG to help achieve that purpose.
"We believe that as a company, we have the responsibility to give back to society and one of the ways in doing so is help the young men and women in this country, who have talents to display.
"Supporting SWAG is an honour, because they have over the years put in much effort to help recognize sports men and women and we have been proud to be associated with them over the years and we know it would continue for years to come.
"We know that one of the areas to significantly contribute to the development of talents is supporting and sponsoring those sports men and women who have worked tirelessly over the years and by so doing we are helping SWAG in making that a reality," he added.
The President for SWAG Mr. Kwabena Yeboah said, his outfit has always been grateful to GOIL for the continues support over the years.
According to him, the SWAG Awards has been successful over the years due to the benevolence and support from corporate bodies like GOIL and his outfit would continue to support and recognize outstanding sporting personalities and teams.
Over 40 sportsmen and women, nominated from 21 categories will converge at the Banquet Hall State House, Accra for the prestigious event that has been the envy of sports men and women over the years.
Source: SWAG
www.sports24ghana.com