The $4bn (£3bn) gravity dam has been under construction near the Sudanese border since 2011, and is now more than half finished. At 6000MW, it aims to be the largest hydroelectric power plant in Africa and the seventh largest in the world. To many, the dam represented Ethiopia's ambition to become the largest power exporter on the continent.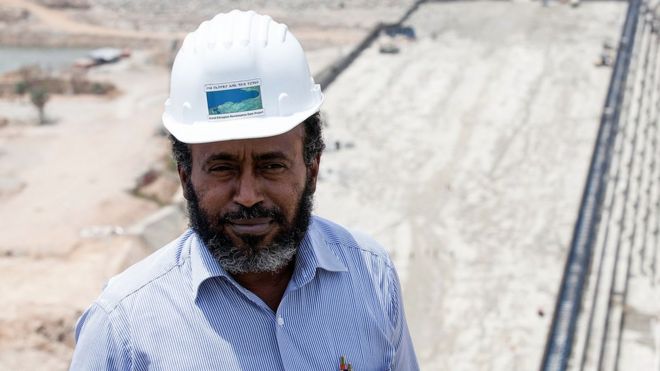 Simegnew Bekele Aynalem
However, the project faced severe opposition from the Egyptian government over concerns that it would affect the flow of the River Nile, which remains central to the Egyptian economy. The Egyptian government had previously demanded that construction of the dam cease before negotiations between the countries could begin, while some political leaders discussed plans to sabotage the project. Ethiopia denies that the dam will have a negative effect on downstream water flows, and argues that it will instead increase flows to Egypt.
In June, the governments of Ethiopia and Egypt agreed to settle their differences amicably. However, the peace surrounding the project has proved short lived.
Simegnew was found dead last week, having taken a gunshot to the head in his car in the busy centre of the capital, Addis Ababa. Although the police have not given any suggestion so far that Simegnew may have been assassinated, foul play is widely suspected, particularly given the timing of his death; he was due to appear at a press conference later that day following comments by the Prime Minister that the GERD could take ten years longer to complete than previously estimated.
"We have confirmed that engineer Simegnew Bekele was shot dead [with] a bullet wound behind his right ear," said Zeinu Jemal, head of the Federal Police Commission, at a press conference. He added that a Colt pistol had been found in the vehicle, and that the police had launched an investigation into the incident.
According to Prime Minister Abiy Ahmed's chief of staff, Ahmed is "saddened and utterly shocked" by Simengnew's death. The government granted the engineer a full state funeral, which attracted tens of thousands of mourners to the capital on Sunday. Simengnew was laid to rest in the Holy Trinity Church beside the tombs of Emperor Haile Selassie I and suffragette Sylvia Pankhurst.
As well as peaceful mourners, his funeral attracted angry protestors in Addis Ababa and his hometown of Gondar, demanding retribution for what is suspected to be his assassination. According to Reuters, hundreds of protestors chanted "justice for Simegnew", "justice for the engineer", "no to killings" and "bring the killers to justice", and demanding that his body is returned to his hometown. Videos shared online show protestors being dispersed with tear gas.
Simegnew's shooting follows the recent killing of another prominent industrialist Deep Kamara – country manager of Dangote Cement – in May.
Source: www.eandt.theiet.org