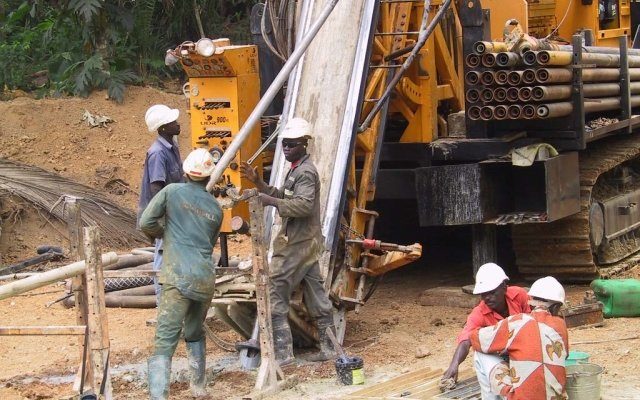 The company expects to upgrade resources and deliver an interim ore reserve by the end of the year.
Azumah Resources Ltd has received high-grade gold results which are likely to have positive implications for increases in resources and reserves at the Wa Gold Project in Ghana.
Managing director Stephen Stone said: "The latest results from the Wa East camp provide further validation that there is considerably more mineralisation to be identified in and around existing deposits and prospects.
"Multi-target drilling campaigns are scheduled to recommence as soon as seasonal rains abate and we remain on schedule to report an interim ore reserve and overall Wa Gold Project study update by the end of 2018."
The drilling has extended mineralisation at Wa East with high-grade hits from the Julie deposit while encouraging results were also received from Julie Far East, Danyawu and Josephine South prospects.
At Julie, eight reverse circulation (RC) holes totalling 1,116.6 metres have demonstrated the continuity of ore-grade mineralisation and extended this down-dip by up to 80 metres.
Better results are:
– 2.44 metres at 7.12 g/t gold from 106 metres and 20.4 metres at 1.44 g/t from 121 metres;
– 3.15 metres at 5.98 g/t from 128 metres;
– 1 metre at 5.98 g/t from 108 metres and 2 metres at 2.96 g/t from 125 metres; and
– 1 metres at 12.85 g/t from 193 metres with this hole ending in moderate grade mineralisation.
Four RC holes for 348 metres at Julie Far East intersected the targeted mineralised zone.
Best intercepts included 4 metres at 2.13 g/t from 77 metres and 1 metre at 1.89 g/t from 89 metres; and 3 metres at 1.16 g/t from 45 metres.
Danyawu mineralisation extended
At Danyawu a fence of three RC holes for 399 metres extended mineralisation 25 metres down-dip to the northeast.
Results include 1 metre at 5.06 g/t from 66 metres, 2 metres at 3.06 g/t from 92 metres and 1 metre at 2.07 g/t from 98 metres; and 1 metre at 1.44 g/t from 78 metres.
There were six RC holes for 464 metres at Josephine South with best results being 30 metres at 0.5 g/t from 31 metres, including 1 metre at 5.42 g/t from 44 metres; and 1 metre at 4.20 g/t from 44 metres.
Deposits and priority targets for 2018 at the Wa Gold Project.
Illegal mining activity at Azumah's main exploration areas has been causing increasing logistical frustrations in recent months.
The company is engaging with local and national governments to contain these activities before the next field season to ensure it has full unrestricted access to the areas in which it wishes to drill and generally operate.
Early seasonal rains and the illegal mining issue have impacted scheduled drilling activities.
Two RC holes at Kunche that were planned to test below two holes that intersected a high-grade interpreted 'feeder-zone', are now scheduled to be drilled as soon as the rains abate.
Reserve upgrade by end of 2018
A mineral resource upgrade, which had been planned for the end of August, has been deferred and will be reported in alignment with an interim ore reserve upgrade which is on schedule for the end of 2018.

To date, the company has delineated a JORC 2012 resource of 2.1 million ounces of gold grading 1.5 g/t.
Within this, an ore reserve of 9.1 million tonnes at 2.14 g/t for 624,000 ounces has been defined.
By John Miller, proactiveinvestors.com.au