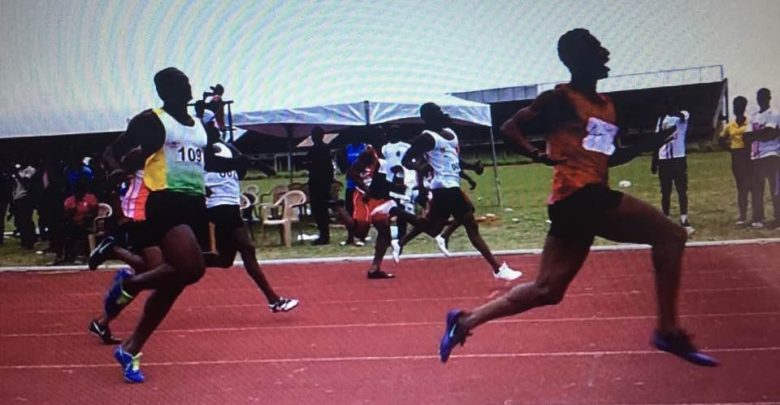 The GNPC Ghana Fastest Human 2018 Finals came off at the Baba Yara Sports Stadium over the weekend with race fans stealing the show, as they cheered the sprinters and sang songs of inspiration to motivate themselves and the athletes.
For once, the fans came in their numbers and made the event fantastic, despite no athlete performing exceptionally well.
However it was young Idriss Musah of Mesec who run a good time of 10.20 secs in the finals of the boys U18.
Reks Brobby, founder of the concept to discover Ghana's Fastert Human said he was impressed with the whole organization and performance of the younger boys and girls.
Here are the full results:
U10 (Boys) 60M
1st. Prince Yeboah, Pankrono R/C Sch (Ashanti) 7.66
2nd. Samuel Twumasi, TI Amass (Ashanti) 7.74
3rd. Abdulai Hafiz, Madina M/A Sch (Greater) 8.07
U15 (Boys)
1st. Harrison Nkrumah, Nyankyerenase Meth Sch (Ashanti) 10.88
2nd. Danso Mark, Pope John Shs (Eastern) 11.01
3rd. Sampson Adu Jnr, DA Experimental Sch (Ashanti) 11.14
U10 (Girls)
1st Boye Rhoda, Katamanso Prim. Sch (Greater) 8.14
2nd. Mohammed Rafia, Nyohino Presby Sch (Northern) 8.33
3rd. Seidu Hamdia, Ridge B Sch (Northern) 8.58
U15 (Girls)
1st. Anita Afrifa, Wewesco JHs (Ashanti) 12.15
2nd. Doris Afriyie, TI Amass (Ashanti) 12.22
3rd Pearl M.Awanya UCC Jhs (Central) 12.52
Seniors (Males)
1st. Oduro Mensah Emmanuel, UCC (Ashanti) 10.43
2nd. Osei Kofi John, Western 10.74
3rd. Raymond French, Western 10.78
Seniors (Females)
1st. Kate Agyeman, Ashanti, (11.47)
2nd. Ali Latifa, UCC (11.56)
3rd. Boakye Mary, Ashanti (11.70)
U18 (Boys)
1st. Iddrisu Musah, Mesec (Western) 10.20
2nd. Remember H. Afaxoe, TI Amass (Ashanti) 10.43
3rd. James Oyare, Kintampo R/C Sch (B/Ahafo) 10.59
U18 (Girls)
1st. Grace Obour, TI Amass (Ashanti) 11.65
2nd. Gifty Oforiwaa, KOSS (Ashanti) 11.72
3rd. Rosemary Adams, Armed Forces Shs (Greater) 11.81
By Sammy Heywood Okine