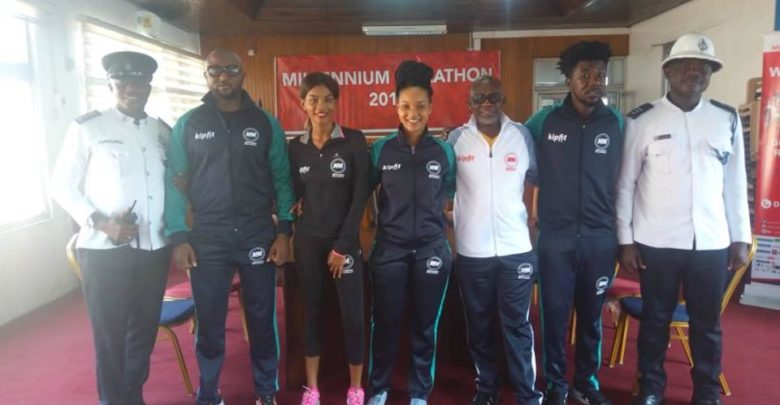 The biggest sports event, the Millennium Marathon 2018 comes up on Saturday, September 22 at the Black Star Square in Accra.
According to Ambassador Ashim Morton, CEO of the Millennium Marathon Sports Ltd, they are ready and just waiting for the starter's gun to see who and who runs or walk and who wins the 2018 edition.
Speaking to the media at the Accra Metropolitan Assembly Hall, he hinted that security, medical and ambulance services are ready.
With the presence of some Millennium Marathon Ambassadors like John Paintsil, Tic, Naa Ashorkor, Dr. Vannessa Atikpui, Mr. Fitness Akoto and Yaw Ampofo Ankrah to encourage runners, he noted that there would be buses to convey participants from various designated points in the capital to the Square.
According to Ashim Morton, the event starts at 6am sharp and runners from Nigeria, Burkina Faso, USA, France, UK, Morocco, Colombia, China, Spain, Japan, Holland, Kenya, Tanzania, Germany, Russia, Peru, Benin, Australia, Equatorial Guinea, South Africa, Ethiopia and Congo have registered to take part.
He announced that the para athletes will take their race before the elite 21km and the 5km.
He said it would be fun galore and urged Ghanaians to register and win some of the attractive prizes at stake.
He stressed that the winner will take home $2,500 for the 21km and $500 for the 5km races.
Ambassador Morton expressed that this year's event has surprises like a brand new Nissan Kicks for the winner of a special raffle to be drawn on Saturday and a Marathon Wedding.
Tic, a popular musician and Dr. Vannesa Atukpui advised Ghanaians to join the race and fun to make friends and socialize on the day, as they keep fit.
The Mayor of Accra, Hon Mohammed Adjei Sowah and some dignitaries like Mike Thakwani of B5 Plus and Mr. Tang Hong, President of the Chinese Ghana Chamber are the official starters.
The Millennium Marathon Ambassadors and celebrities will also be in attendance, like Azumah Nelson, Stephen Appiah, Nana Ama McBrown, Nana Aba Anamoah Lil Wayne, Captain Planet, Bella Mundi, Wael Hakim, Juliet Gyamfi, Salem Kalmoni, Divine Asiedu, Anita Punjabi, Roddy Morgan, Miriam Ismail, KOD, Alan Beales and others.
Some companies supporting the Millennium Marathon 2018 are Unilever, Japan Motors, Allianz Insurance, Impact Clinic, Tang Hotel, MTN, MenzGold, Twellium Industries, Wigal, Whirlpool, Can West, Royal Habits, Zen Gardens, Elite Sports, Decathlon, NLA, Zoomlion, Papaye, Blue Skies, Accra Mall, Frankies Hotel, Indomie, 4GS, AMS, Garmin, ddp, Beautiful Beneath, Emirates, GNFS, and NIB.
By Sammy Heywood Okine