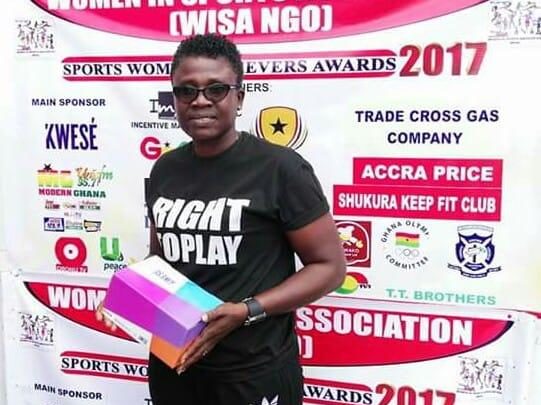 By Sammy Heywood Okine & Naa Amerley Commey
Madam Gloria Commodore, Executive Director of Women In Sports Association (WISA), an NGO with the aim and objective of empowering girls and women in sports has expressed her joy and sincere gratitude to some companies for coming on board at the last minute to support their second awards.
According to Mama G, as she is popularly known in media circles, companies like Special IceMineral Water, Paradise PAC, Indomie Instant Noodles have joined Ghandour Cosmetics to make the awards day exciting and successful.
She thanked the management of the companies and promised them the mileage they want.
She hinted that members of the Black Queens who are preparing for the 2018 African Women's Championships would be in attendance to support their coach, Mrs. Mercy Tagoe Quarcoo and colleague, Pricilla Adobea who would be honoured.
Madam Commodore said bit by bit people and companies are realizing her good works, and she hopes that next year, more bigger companies would join to encourage and award Ghanaian females in sports.
This year, 26 sports personalities on the sports field, in administration, management, media, supporters and retired would be honoured at the multi purpose court of the Accra Sports Stadium.
According to the programme, there would be a Health Walk from the stadium to Danquah Circle and back, demonstration of some sports like netball and taekwondo, rugby by females.
The nominees for the 2018 Awards are Victoria Dowuona – Tennis, Samira Suleimana – Football / Charity, Phillipina Frimpong – Administration, Mercy Tagoe Quarcoo – Football, Veronica Commey – Media, Memunatu Suleimana – Football, Catherine Morton – Education, Gloria Peprah – Media, Hor Halutie – Athletics, Cylia Baah Danso – Table Tennis and Irene Yarboi – Hockey.
The others are Rosemary Ametepe – Boxing, Madam Alice Attipoe – Administration, Black Queens – Football, Gladys Patterson – Supporter, Amy Fynn – Thompson – Media, Helena Williams – Coaching, Mary Ennoo – Badminton, Akosua Nkansah – Para Badminton, Ali Ayishatu Zakaria – Media and  Priscilla Adubea – Football.
The rest are Kaya Forson – Swimming, Rafatu Inusah – Rugby, Nadia Darley Sackitey – Taekwondo and Cynthia Lamptey – Handball.