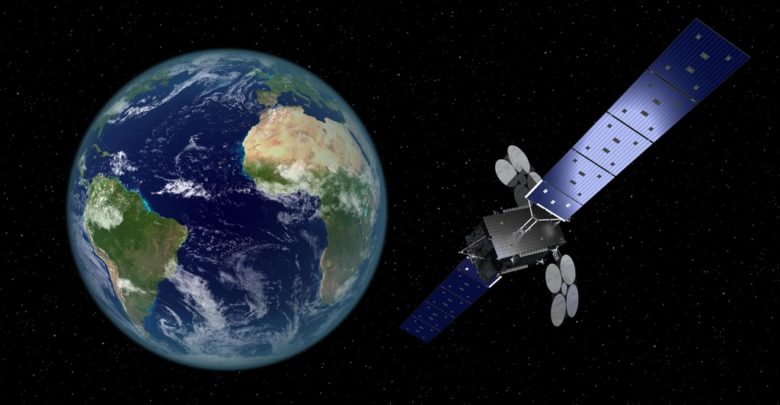 Having to conduct your business from your local burger joint because of unreliable internet connectivity should be a necessity that – even for the humblest of freelancers or start-up entrepreneurs – belong to a distant past or a rare emergency situation.
Yahsat's third satellite launched in January. Mubadala
Yet for many small businesses across Africa's remote, rural regions, this is a daily reality.
"This valley is [known] for bad reception. I know some of my neighbours never had reception. They go into town to the Wimpy to be able to get reception in order to get reception to do business," says Carien De Villiers, a farm owner in the remote village of Thorndale in South Africa.
A YahClick satellite wireless access point. Africa is set to gain with latest satellite connection. Yahsat
The correlation between investment in broadband connectivity and the growth of economic activity has been well established. For every 10 per cent increase in broadband connectivity in developing nations, GDP rises by 1.38 per cent, according to the World Bank.
 Hooked up
Tapping into this trend, Abu Dhabi's Al Yah Satellite Communication Company, known as Yahsat, has been expanding its YahClick broadband internet service to more markets in developing economies across Africa.Its investment of over $200 million in the Al Yah 3 satellite, which became commercially operational earlier this year, has allowed the company to launch broadband service YahClick in eight new markets, including Ghana, Cameroon, Ivory Coast, Democratic Republic of the Congo and Zimbabwe, extending the potential for connectivity even in rural areas."Since I've had YahClick, I always have a connection, which I can't say about any of my neighbours," says Ms De Villiers, who sells livestock to surrounding businesses.
This connectivity to rural areas has been available to Ms De Villiers and others in South Africa, Nigeria and Kenya for a number of years now, unlocking potential for schools, businesses and governmental services.
In 2016, Africa's average internet penetration was forecast to hit 50 per cent by 2025, while the number of smartphones was expected to reach 360 million, a significant rise from 16 per cent and 67 million in 2013, respectively.
 Yahsat satellite arrives in Kourou, French Guiana, prior to launch. Yahsat
Greater access to satellite broadband services could help improve the quality of life, and specifically in regions were internet interruptions are so common they cost businesses millions of dollars a day. Satellite services provide fibre-like speeds without the need for expensive capital investments to develop the infrastructure on the ground.
 Fuelling of the new Al Yah 3 satellite
"Yahsat, and in alignment to the UN SDG efforts [sustainable development goals] have teamed up with leading e-learning solutions and e-health solutions providers," says Farhad Khan, chief commercial officer of Yahsat. "These implementations have a direct impact on the social aspect of people; connecting the schools to the internet and transforming the learning environment increases the willingness of pupils to attend their schools and enhances their abilities to create the skills that will benefit them in their lives."
Ghana was the first African nation to have a mobile service provider in 1992, and two years later was one of the continent's first to connect to the internet and offer ADSL broadband services to the public.
Credit:  By Ali Khaled, thenational.ae