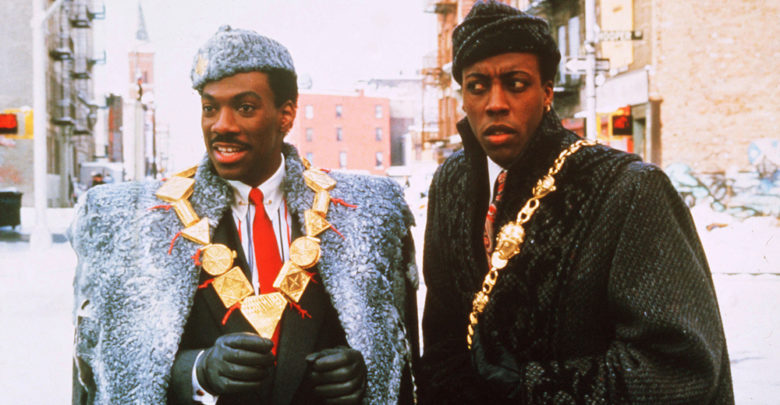 Join us for a special celebration for the 30th anniversary with a film screening and an exciting immersive party. Guests can expect a memorable experience at this one of a kind event that brings the magic of the film to life for one night only. Enjoy special performances, themed areas, and music from classic gems to African rhythms. Come dressed up as your favorite character from the film or bring a 1980s vibe with you.
You're going to love every minute of this wonderful night. Don't forget to explore and interact with the many activities based off the film that will be brought to life. Come hungry and thirsty for some delicious and tasty drinks and food inspired by the film. You'll even have a chance to win a flight to Africa in 2019!
The perfect night for fans, friends, family, and those looking to celebrate a classic film.
Welcome to the 30th anniversary celebration for COMING TO AMERICA.
FILM SCREENING:
Limited amount of tickets will be available for the film screening from 7:00 PM – 10:00 PM

Hilarious, sweet, and sharp, COMING TO AMERICA is Eddie Murphy's funniest film. African prince Akeem is on a journey across the world to find a a queen. What better place to look than Queens, New York? Akeem wants to live like the common people of Queens do, but his faithful servant prefers the luxuries of palace life. Will they find a woman who wants Akeem for love and not his wealth?
The celebration will begin at 10:00 PM and end at 4:00 AM. You might spot a few surprise guests…
All guests must be 21 years or older to attend.
"When you think of garbage, think of Akeem."
DATE AND TIME
Sat, Dec 15, 2018, 7:00 PM –
Sun, Dec 16, 2018, 4:00 AM EST
LOCATION
Knockdown Center
52-19 Flushing Ave
Queens, NY 11378
Credit: eventbrite.com