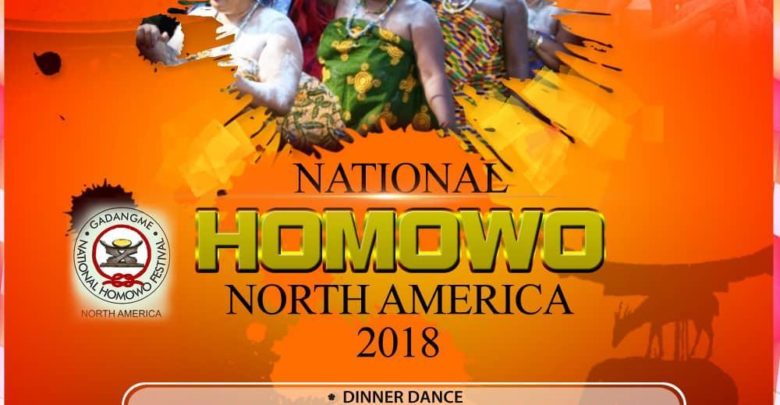 The Mayor of Alexandria, Virginia the Honourable Alison Silverberg, and the Alexandria City Council in the USA have issued a proclamation recognizing the annual Homowo festival of the Ga people of Ghana and issued a proclamation recognizing that it should be a festive day of African Cultural Renaissance and Enrichment in the City.
Attendance at the festival was not only for Ghanaians but Americans, Hispanics and quite a large cross-section of the ethnic fabric of the City of Alexandria and its environs, including the nation's capital, Washington D.C.
There were delegations from GaDangme Associations and citizens from Maryland, New York, Philadelphia, Ohio, Atlanta, North Dakota, Virginia, Cincinnati, Chicago, New Jersey, North Carolina, Minneapolis and Canada.
His Royal Majesty King Boni Abiasuma Nii Taki Adama Latse II of the Ga Traditional Area, and the Queen Mother of Ada perfomed the ritual of "Kogbamo" dishing out the food and sprinkling of the "Kpoikpoi" to initiate the "free – for- all" eating of the festal food.
A representative of His Excellency, Dr. Barfour Adjei-Barwuah, the Ambassador of Ghana to the USA graced the occasion and delivered the key note address in which he urged qualified Ghanaians to return home to offer their technical know-how and infuse a new sence of service to help in the effort to rebuild the country.
The Unity Cultural Group were there to offer entertainment with their traditional drumming, dancing and displays.
There was an awards and dinner dance to honour some distinguished members of the GaDangme Association.
Homowo is a post-havest festival celebrated to commemorate the end of some historic bouts of severe famine and hunger suffered by the ancestral GaDangmes on their epic migratory journeys from ancient Isreal, Egypt (Mizraim), Goshen, Ethiopiam Sudan, Benin, Boma, Ille Ife, Tetetutu, Grand Popo, Gliji and finally Aneho in modern Togo, to the present settlement on the coast of the Gulf of Guinea.
After settling down, the land yielded bountiful crops and they harvested shoals of fish from the sea and much maize and palm from the farms.
They established the annual festival to commemorate their conquest over hunger by dint of skills of their own hand.
Homowo has become a major traditional festival in Ghana and it is celebrated by both indegines and sojouners in the Ga Traditional area with all pomp and pageantry.
The word Homowo means "jeering or hooting at hunger". It is a post harvest  festival that features a special festal food "Kpoikpoi", made of steamed corn meal, and eaten with copious quantities of palm nut soup with chunks of smoked fish, and sometimes meat.
Interesting enough, although it is not forbidden by law or traditional edict, that food is not cooked or sold in the market. The fact that food is a once a year delicacy, makes it so appealing to all and sundry during the season of the celebration.
By Sammy Heywood Okine