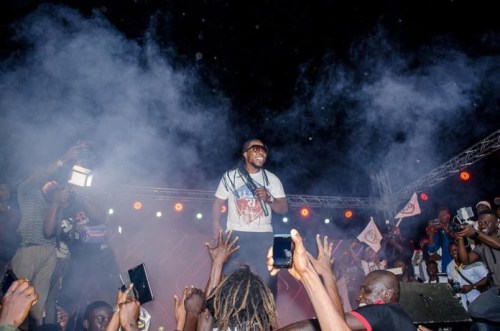 By John Mills
Celebrated Ghanaian Rapper, Edem, punched critics to stop 'disturbing' Ghanaian artistes to fill 20,000 O2 Arena in the UK (as was done by Popcaan and Davido recently in England). The Rapper says the Ghanaian media needs to stop using that criteria to set standards for Ghanaian artistes.
Edem urges the media and critics to focus and promote musicians with great content and meaningful lyrics instead of driving all attention to filling venues.
"There are several times Ghanaian media made reports that Ghanaian artistes are playing to empty audience abroad. The big questions are, where are the Ghanaians based in those countries the concerts are held? How are the media networks in those countries also supporting our Ghanaian artistes when they have shows outside? Not to say filling such venues aren't necessary but more needs to be done to have those materialize", Edem explains.
Edem also thinks "it has to be a collaborative effort for all that to materialize. And we should be able to encourage more of our artistes to come out and grow their network."
"It is not about the following the artiste has, but the internal mechanisms involved", Edem added.
The O2 Arena is a multi-purpose indoor arenalocated in the centre of The O2 entertainment complex on the Greenwich Peninsula in South East London.