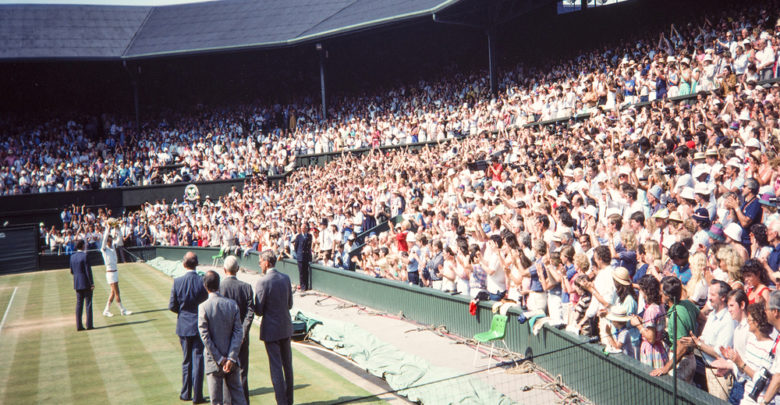 The All England Lawn Tennis Club (AELTC) has announced the launch of a new immersive experience for fans ahead of this year's edition of the Wimbledon grand slam tournament.
'Wimbledon Rematch 1980' is a venture with newly-formed events production business Rematch that will focus on the headline-making events from that year's memorable edition of Wimbledon.
A virtual time capsule will be based around evocative moments from the 1980 fortnight, such as Björn Borg's titanic battle with John McEnroe – widely regarded as one of the most engrossing grand slam finals in history – and Evonne Goolagong's surprise win over Chris Evert Lloyd.
Wimbledon Rematch 1980 will also look at the debut of 'Cyclops', which is regarded as the grandfather of electronic line-calling.
Mick Desmond, Commercial & Media Director at the AELTC, said: "We're immensely proud and excited to be leading the way for sport with this innovative project, where guests can experience the cherished nostalgia of the 80s and Wimbledon's place within that epic summer in a way never before imagined.
"Not only do we hope to provide something for die-hard fans who were there at the time, we hope to engage a new generation of event-goers in the magic of the Wimbledon experience."
Arranged across five exclusive sessions on June 28-30 as the inaugural event at the newly opened Troubadour Wembley Park Theatre, Wimbledon Rematch 1980 will offer visitors a new perspective on the eve of the 2019 edition of The Championships.
Richard Ayers, CEO at Rematch, said: "This is a ground-breaking new development in the live experience of sport. To be launching the concept with such an iconic partner as Wimbledon is an honour for Rematch.
"Together we will bring to life The Championships 1980 in a phenomenal new way that explores the moment as never before. Every aspect is driven by meticulous attention to detail and innovative production techniques. With highly creative programming and multifaceted elements to surprise and delight our guests, we believe this is going to be one of the hottest tickets this summer."
The AELTC is ramping up its fan engagement initiatives ahead of the 2019 Wimbledon Championships, which will take place from July 1-14.
A one-off ticketed event will be staged by the association on 19th May to mark the completion of the project to install a roof on Wimbledon's No.1 Court.
Sport Industry Group