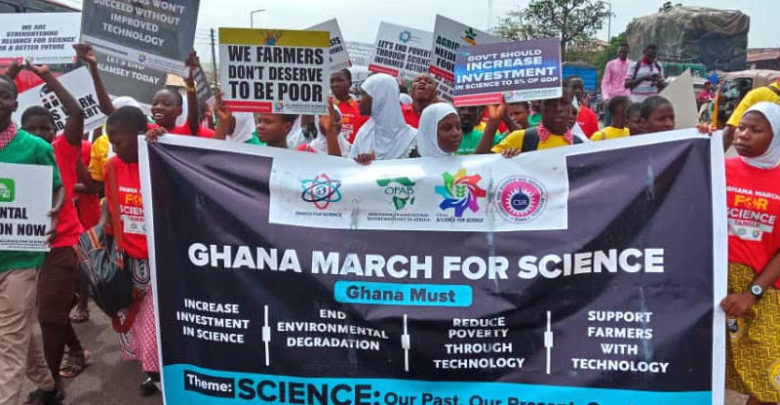 Hundreds of people poured into the streets of Ghana's northern city of Tamale this past weekend to herald the importance of science to national development.
Saturday's 90-minute walk through the streets of the savannah city — held as part of the global March for Science — drew in students, farmers, scientists and members of the general public with the goal of making the country's leaders aware of the importance of science-based evidence in policy-making.
Farmers demanded access to improved technology to support food security, a scientist called for free tuition for university students studying science and others urged the government to prioritize funding for science to improve Ghana economically and socially.
"I am happy we are here today because the whole world is marching today," Nasiru Adams, chairman of the Northern Farmers Association of Ghana, told the crowd. "We thank the scientists for their new innovations and we promise to embrace the innovations for our food and income security. Long live Ghana, long live the scientist and long live the farmer."
The participants held placards with various inscriptions, including: "reduce poverty through technological innovation," "support farmers with technological innovation," "we farmers don't deserve to be poor," "let's end poverty through science informed actions," "agric innovation needed to ensure food security" and "agric innovation needed to lift farmers out of poverty."
Other signs read: "government should increase investment in science to 5% of GDP," "urgent steps needed to combat climate change," "biotechnology is a tool Ghana needs," "we farmers cannot feed the world without technology" and "we farmers believe technology will make us rich," among others.
Tamale is the third biggest city in Ghana. Located some 600 kilometers north of Ghana's national capital Accra, it is surrounded by major farming communities that grow a lot of the country's staple crops to help feed the nation. The city is also home to the University for Development Studies, an institution famous for training several of the nation's agriculturalists, and the Savannah Agricultural Research Institute (SARI), a state agricultural research organization. Scientists from both institutions participated in the Ghana March for Science.
Dr. Roger Kanton, chief research scientist at SARI, told the gathering at the end of the march that the nation will struggle to develop if conscious efforts are not made to include innovation in the developmental agenda.
"The president has said he is building Ghana beyond aid. I am challenging the president. He cannot talk about Ghana beyond aid without putting science and technology and innovation at the forefront. No government policy will work if it is not underpinned by science and innovation," Kanton explained.
He called for more investments in agriculture. "This morning, I am calling on the president of this country to seriously re-look at science. And allocate money to scientists. Not only to the science institutions but to the academic institutions. If you are reading [enrolled in] science, you don't have to pay anything at the university. Those reading law and other humanities can pay. But science education should be free," Kanton told the cheering crowd.
"This country would have been doing better if we were taking science seriously. There is no country that can develop without science. What can succeed without science? Nothing. What can lawyers do without science? What can bankers and police do if they don't eat well?" he quizzed.
Kanton advocated the need to make improved seeds available to farmers across the country to make the nation food secure. "You need good seeds for farmers — climate smart seeds. When you compare now to 20 years ago, the weather was not the same as today because the climate has changed. So you can't continue doing the same thing and expect progress. It will not work," he said. "But when government decides to involve us to provide high quality improved seeds and hybrids, that is what will help our people so that everybody will get food to eat."
Farmers who participated in the march re-affirmed their commitment to science and innovation to improve food security in the country. "Everything we do on earth is science. Even farmers, the seed we have and how we use it is science," farm leader Adams said. "So let us all embrace scientific innovations. New innovations that will make all of us food secure."
Manu Otoo Acheampng, a biotechnology and molecular biology student at the University for Development Studies, spoke on behalf of the student's leadership. "We strongly believe that science is the key of the world. With science, we believe strongly that we can all deal with hunger. So let's take science very seriously."
Reuben Quainoo of Alliance for Science Ghana, which helped organize the march, expressed optimism that the huge turnout for the event will send the message to government and other stakeholders that science is crucial for development. "The most important thing we have done today is that we have sent the message to government that science is the present, the past and the future. So, they should do what is right by prioritizing science," he said.
The March for Science (MFS) was started in 2017 in the USA. Since then, individuals, teams, formal organizations and coalitions of community members who share the mission to promote science in all spheres of life have formed their own groups and activities. More than 150 marches were held across the world over the weekend including Abuja, Nigeria.
By Joseph Opoku Gakpo, allianceforscience.cornell.edu