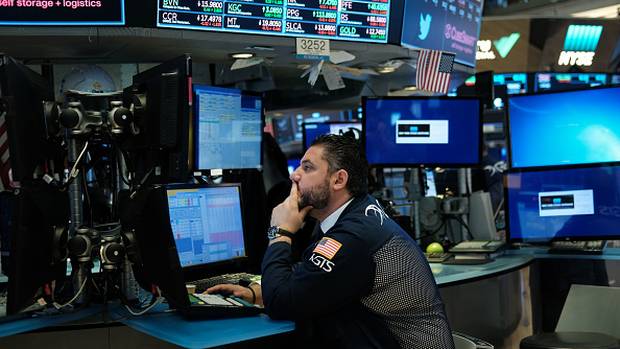 Trade tensions sank stocks on Tuesday as the Trump administration promised to make good on its threats to raise tariffs on Chinese imports beginning Friday.
The sell-off was broad and deep, reaching into technology, chips, industrials and materials. The Dow Jones industrial average plunged 473 points, about 1.8 per cent, to close at 25,965. The blue chip measure was down 648 points at its low. All 30 Dow components were in the red, with aerospace giant Boeing the biggest drag after a downgrade by Barclays. The financial firm said a poll of airline passengers showed many people avoiding the 737 Max.
The Standard & Poor's 500 retreated 1.65 per cent, to 2,884, in its biggest drop since March 22. All 11 sectors were in the red, with information technology and industrials leading the drop because they stand to be burned in a protracted U.S.-China trade fight. The tech-heavy Nasdaq Composite was also hit hard, dropping nearly 2 per cent to 7,963 on a retreat by chipmakers who rely on China for a large portion of their revenue.
The three major U.S. indexes had been near all-time highs just last Friday, with the Dow up 12 per cent for the year, the S&P 500 up more than 15 per cent, and the Nasdaq ahead 20 per cent.
"The market has risen significantly and steadily since right after Christmas on the Federal Reserve pivot and significant optimism over a trade deal," said Ivan Feinseth, chief investment officer of Tigress Financial Partners. "If the trade deal gets derailed, the market is going to reset back to where it was."
Tuesday's drop followed a feisty Monday in which shares slid 471 points before rallying to finish the day down 66 points on news that a top Chinese trade official would be in Washington by the end of the week to lead the talks for his side.
But there was no U-turn on Tuesday as the sides appear to be hardening their respective stances on trade issues.
"This is follow-through on the same concerns that hit the market yesterday," said Ed Yardeni, president of Yardeni Research. "Investors have thought some more about the risk of a no-deal with China, and they continue to back away from stocks until this issue is resolved one way or another."
After markets closed Monday, senior Trump administration officials accused Beijing of "reneging" on commitments made earlier in trade talks and reaffirmed their plan to raise tariffs.
"Over the course of the last week or so, we have seen an erosion in commitments by China. I would say retreating from specific commitments that had already been made," said Robert Lighthizer, the president's chief trade negotiator. "That, in our view, is unacceptable."
nzherald.co.nz