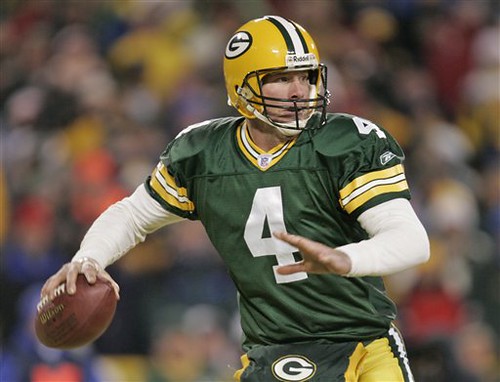 Brett Favre became a household name for football families like mine thanks to a storied two-decade, 71,838-passing-yard NFL career. But now, Favre has a new play earning him headlines.
He's invested in a drug company called Prevacus. The startup is getting close to a treatment for concussions, an injury that's concerned players, coaches, and parents at all levels of football (FYI, they make up 7.4% of all injuries in college football players).
I spoke with Favre and Prevacus founder Dr. Jacob VanLandingham about their shared vision for a future without the negative impacts of concussions.
So what is it?
In lab tests, Prevacus (which has been approved for FDA fast track status) has reduced brain inflammation and swelling. If it works on humans, the treatment could lessen the chances someone with a concussion develops CTE, aka chronic traumatic encephalopathy aka a cause of devastating problems like depression, memory loss, and mood disorders.
Let's talk money. Since its start in my hometown of Tallahassee, FL, a little over five years ago, Prevacus has raised roughly $10 million.
VanLandingham says the treatment, a nasal spray administered 2x daily for 14 days, would likely cost under $300 for patients post-insurance.
Today's average cost per concussion is about $12,000, so you see why VanLandingham expects Prevacus to save $3-4 billion in health care costs.
Sidenote: Favre's joined on the Prevacus-backer roster by Kurt Warner, Abby Wambach, and David "Grandpa Rossy" Ross, to name a few.
Why is there a need?
A 2017 paper in the Journal of the American Medical Association found that, among 111 brains from former NFL players donated to a project to study the long-term effects of repeated head trauma, 110 had CTE. Some faulted that report's selection bias and small sample size, but a follow-up study found that at least 9.6% of NFL players who died from 2008-2016 had CTE.
The impacts are, quite literally, life threatening. Per Favre, "You see former players with anything from either killing themselves or they can't remember anything or get Lou Gehrig's disease…as a result of concussions."
And the league is starting to pay after years of ignoring the issue. Within two years of reaching a landmark $1 billion concussion settlement, the NFL was staring down over $500 million in approved claims. That happened nearly a full decade earlier than execs were expecting.
So we're starting to see innovation
Thanks to rule changes and advances in helmet tech, the number of diagnosed concussions in the NFL dropped 24% in preseason and regular season games last year.
Even still, Favre believes concussions "are going to happen"…which is part of why he'd "much rather" his three grandsons play golf (they're coming for you, Koepka). It's also why, while some ex-players home in on preventative measures, Favre is focused on treatment.
"Of all the things I've done, the marketing—this had the most value for me as far as putting my stamp on something," he said. And he's been the face (and glutes) of Wranglers.
Because after all, "AIDS was once a death sentence, but now it's treatable," Favre said. "Concussions will be looked at the same way…right now it's not treatable."
So what's next for Prevacus? Favre and VanLandingham hope to start human trials this summer. If all goes to plan, they'll begin selling to certain populations after Thanksgiving.