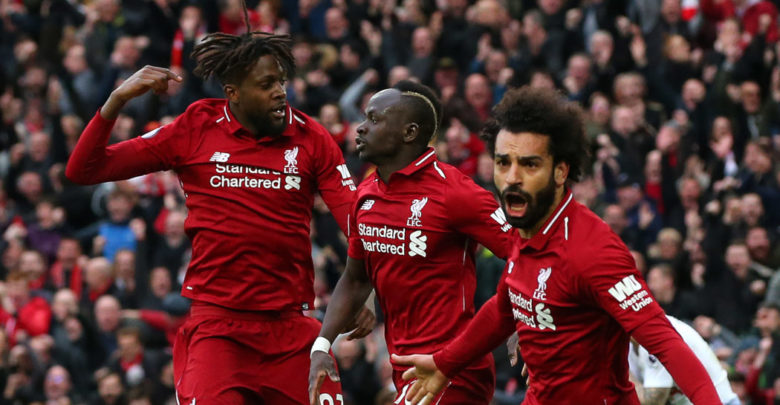 Liverpool banished the demons of last year's Champions League by beating Tottenham 2-0 in Madrid.
Salah's early penalty put the Merseysiders ahead inside two minutes after a debatable handball by Moussa Sissoko.
And substitute Divock Origi – who put in a heroic semi-final performance to help Liverpool make the final – confirmed the result with a left-footed drive.
And in the end, Tottenham will be left wondering what might have been as neither team grasped control of the final.
It was Sadio Mane, though, who ensured Liverpool took the initiative almost immediately when he won the Reds their early spot-kick.
The Senegalese forward's brief burst down the left ended with a clipped ball into the box – which Sissoko inadvertently handled.
Salah, Liverpool's consistent hero under pressure, stepped up to score with a coolness which personified Jurgen Klopp's confidence in his side.
Sissoko attempted to rectify his mistake when he ploughed an effort over the bar from 25 yards after nice work from Heung-min Son.
Liverpool, having not had to work particularly hard to open the scoring, were stuck operating in lower gears.
But Trent Alexander-Arnold tried his luck from 30 yards – just wide of Hugo Lloris' far post – before fellow wing-back Andrew Robertson almost set Salah up for a second.
Mauricio Pochettino's men showed fleeting moments of getting themselves level – Son looked like breaking the line of a sturdy Liverpool defence on a number of occasions.
It was Lloris, though, who had to react to keep Spurs in the match just before half-time.
Robertson, again posing a threat, bombed forward and unleashed a goal-bound drive from 30 yards which the World Cup winner flicked over the bar.
And that strike came as Klopp's men ramped up the pressure before the break.
Salah, as threatening as ever on the counter, was picked out early in the second half but his shot was blocked before Lloris had to react rapidly to pluck the ball off the feet of Mane from close range.
The second half followed a similar pattern to the first, with neither team able to create any momentum but Eriksen had a shot blocked from range.
Liverpool almost had a second when Lloris was left helpless after James Milner drove an effort inches wide of the post with the Frenchman beaten.
The game started to stretch and after Spurs failed to pick out a forward with three consecutive crosses, Salah picked out Mane at the other end – only for a poor first touch to deny him.
Dele Alli almost capped a lovely Tottenham counter with a delightful lob after Son's pass, before the South Korean almost burst his way into the box with a sensational run.
With ten minutes remaining Son forced Allison into a fine save with a thunderous strike from range, before the Brazil goalkeeper made another in quick succession to keep out Lucas Moura, a second-half substitute.
Eriksen was next to be denied by Allison as Spurs were stirred into life in the final ten minutes.
Son, probably Spurs' most threatening player, was left relieved by the offside flag after he headed over from three yards.
And Origi, often Liverpool's unexpected threat this season, then delivered the crushing blow to Tottenham three minutes from time when he picked up a loose ball to drive a strong left-footed effort into the corner.
Rose, Son and Harry Kane all forced saves from goalkeeper Allison as Spurs tried desperately to recover.
But in the end, the Champions League final was not the spectacle the occasion deserved and was an unfitting ending to a sensational season.
By Dimitri Kondonis, Yahoo Sport UK