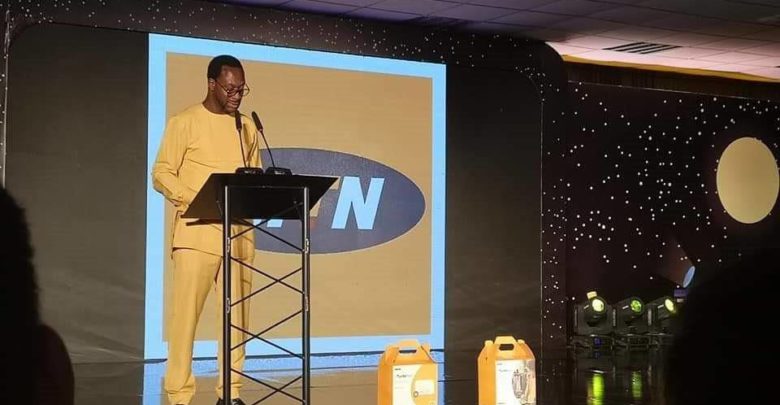 The
Chief Executive Officer of MTN Ghana, Mr. Selorm 
Adadevoh has opined that the launch of super high-speed plug and play internet router [TurboNet] by Ghana's leading telecommunications services provider is a symbol of revolution in the digital space.
"We call this a "revolution" because it is exactly that," the CEO said at the launch held at the Accra Digital Center on Tuesday, May 05. "Today, in the year 2019, old technologies such as ADSL (running on copper lines) and the more recent Fibre-to-the-home (FTTH) continue to be the prevalent solution for high-speed home internet in
Ghana, but these together cover far less than 4% of our 5million+ homes," he said.
"For us at MTN, we believe every Ghanaian deserves the benefits of a modern connected life and instead of just talking about it, we have chosen to do something about it – by revolutionizing the high-speed home broadband industry through the MTN TurboNet solution," Mr. Adadevoh added.
The MTN TurboNet provides instant high speed internet for up to thirty-two [32] users at the same time.
According to Mr. Adadevoh customers can now purchase the MTN Turbonet device and be connected within minutes. No need for long application forms, surveys or waiting for engineers at home.

In his address, the Deputy Minister for Communications, Honourable George Andah indicated that increased broadband penetration which is reliable, affordable and accessible nationwide will facilitate Ghana's participation in the 4th Industrial Revolution and it will complement the efforts of Government to attain the objectives of the Digital Agenda.
"The introduction of this solution by MTN would support Government's efforts in bridging the digital divide gap so that our citizens can access digital initiatives of Government such as e-Payment, generation of digital addresses, the e-Procurement, e-Justice system, e-immigration system, e-Parliament system, e-Passport and others."
Mr. Andah further commended MTN for investing in the innovation of the MTN TurboNet
.
The launch of MTN Turbonet adds to the catalogue of other products and services managed by MTN business including; Fibre broadband, Leased Lines, Dedicated Internet and Vehicle tracking services.
Follow Amisty on twitter @ElAmistyNobo
www.delreport.com