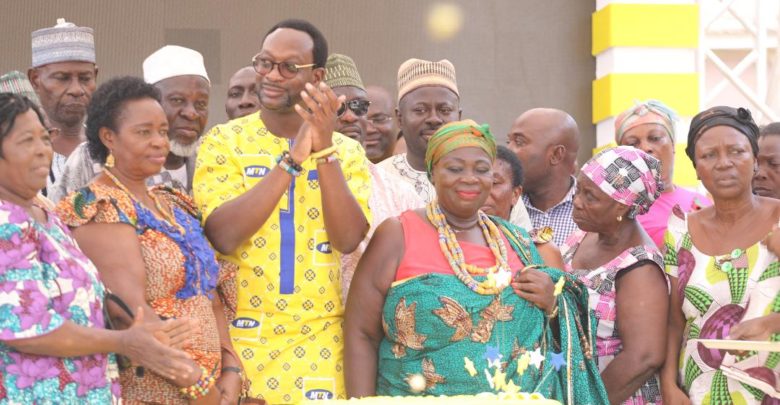 By: El-Amisty Nobo
Hundreds of people who thronged the Madina Market in Accra on Thursday, June 06, 2019 to witness the launch of the MTN Mobile Money [MoMo] @ 10 celebration got a rush of butterflies and goosebumps tingle around their spines when Mrs. Rita Nhyiraba Tetteh – the voice behind the first MoMo commercial advert was called on stage.
Hearing Mrs. Rita Nhyiraba Tetteh [60yrs] reciting her voice in the most famous 'Me Nsa Aka' advert produced a little over 10yrs ago on stage filled the crowd gathered at the Madina Market with nostalgia.
'Me Nsa Aka,' a Fante phrase which literary means – I have received it, seem to be the magic with which MTN Ghana used in getting its customers at ease because the advert was well codified to the understanding of even the less privilege in the Ghanaian society.
"MoMo @ 10 … Making Life Simple"
General Manager of Mobile Financial Services at MTN Ghana [Mr. Eli Hini] speaking at the launch of the MoMo @ 10 revealed that his outfit will continue to provide the best security of service[s] for its subscribers.

He [Mr. Hini], however, commended MTN staff, subscribers, government, regulators, and the media for work done over the years towards the success of the MoMo:
"This couldn't have been possible without the support of all of our key stakeholders."
He reiterated further that the MTN Mobile Money has become a lifeline to the many unbanked and the underserved in the Ghanaian society.
According to Mr. Hini the number of active Mobile Money agents as at the last count in May stood at 124, 000 as well as over 5,000 mobile canvassers.
The MTN Mobile Money, a service provided by MTN in partnership with partner banks was officially launched on July 21, 2009, in the presence of the then Governor of the Bank of Ghana – Mr. Paul Acquah.
The service [MoMo] operates through authorised Agents who will facilitate the service on behalf of Mobile Money Limited.
The Mobile Money platform offers subscribers the opportunity to engage in services such as:
Pay bills through their phones.
Richarge their credit easily.
Transfer money to loved ones and for business purposes without going to the bank, amongst others.
One can simply say that the MTN Mobile Money has become part and parcel of the Ghanaian lifestyle.
Follow Amisty on twitter @ElAmistyNobo
www.delreport.com