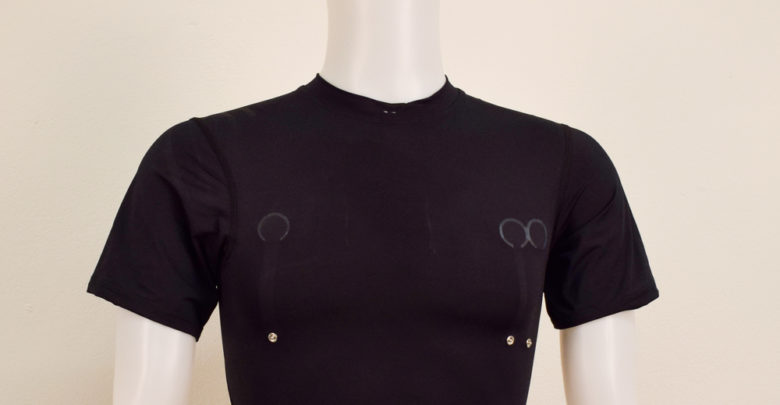 Theme:  cardiac health in sport
The European Space Agency (ESA) has partnered with British technology company and infrared textiles producer, KYMIRA, to aid the development of its smart cardiac monitoring t-shirt.
This is being conducted through an ESA 'Kick-Start activity', which provides both funding and support to companies for the development of new space-enabled healthcare services. The awareness of cardiac health in sport has risen in recent years due to several high-profile incidents affecting athletes and improved detection methods highlighting those with potential issues.
The ESA's support follows KYMIRA's successful application for the Agency's 'Big Data in Health' activity, which promotes the utilisation of space technology to improve health services. KYMIRA will make use of ESA's data processing software, developed for space operations, to automatically process large amounts of data and to detect deviations and anomalies, in order to advance and improve its Electro-Cardiogram (ECG) t-shirt.
KYMIRA is targeting that the first iteration of the ECG top is made commercially available in 2020. The garment wirelessly transmits the wearer's heart rhythm to a mobile device, and can accurately identify an unusual heart rhythm that could presage a sudden cardiac arrest.
With the added machine learning capabilities, it is intended that the future ECG top will be capable of establishing a wearer's 'normal/baseline' ECG, identify anomalies as they arise and predict how these may progress.
Nick Appleyard, Head of ESA Business Applications and Space Solutions, said: "This is an example of how space can add value to the healthcare industry in all sorts of unexpected ways. ESA Business Applications and Space Solutions is ESA's support programme for space-related innovation in all fields of society. In this context our mission is to ensure that investments in space deliver benefits to all, by applying space technologies and know-how to everyday life."
Tim Brownstone, CEO and Founder at KYMIRA, added: "ESA is an internationally renowned institution at the forefront of space technology and so this is an exciting opportunity for us to benefit from their expertise and co-funding. KYMIRA will work hard to continue building on our innovative ECG top and we hope to maintain a strong relationship with ESA over the forthcoming years."
By: Sport Industry Group