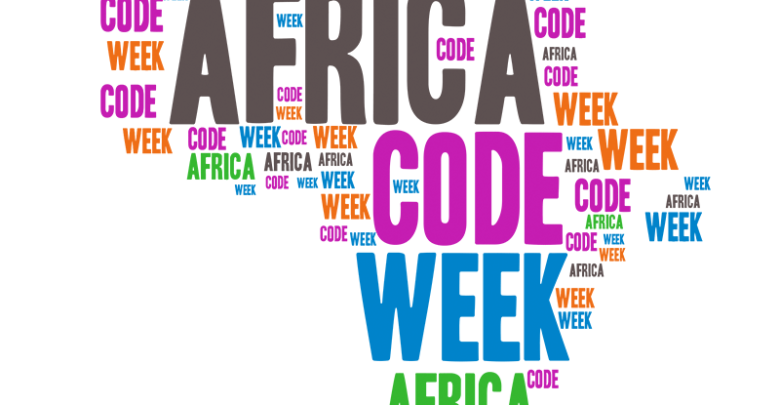 Nearly 700 teachers in Ghana completed their digital skills training this month as part of the country's preparations for SAP Africa Code Week, which aims to introduce 1.5 million young Africans to digital and coding skills this year. In 2018, more than 560 teachers from across Ghana took part in the Train-the-Trainer workshops, which are held ahead of the Africa Code Week activities in October every year.
Similar to its peers across the continent, Ghana boasts a growing youthful workforce, with an estimated 57% of the current population aged 25 and under. It is one of Africa's fastest-growing economies with GDP growth of 6.3% in 2018; this is expected to increase to 7.6% in 2019.
In 2017, the Ghanaian government also made secondary education free, which has played a major role in increasing the country's literacy rate. According to UNESCO, Ghana's youth literacy rate has increased from 71% in 2000 to 86% in 2010. More than 84% of children in Ghana attended some form of elementary education in 2017, and enrolment in secondary education grew from 57% in 2012 to 65% in 2017.
According to Claire Gillissen-Duval, Director of EMEA Corporate Social Responsibility and Africa Code Week Global Lead at SAP, the great strides Ghana has made toward improving access to education for all and achieving universal enrolment has not made it immune to the continent-wide teaching skills shortage. "This is having an impact on our collective ability to train the next generation of digital workers who will power Africa's economy in the Fourth Industrial Economy. We believe that, by bringing in relevant partners and activating our extensive volunteer network, we can play a positive role in equipping Ghana's teachers with important digital teaching skills that will help accelerate digital literacy in the country."
She adds that the Train-the-Trainer workshops are designed to empower teachers with valuable 21st century digital skills and create a sense of excitement and enthusiasm around the possibilities of the Fourth Industrial Revolution. "By equipping local teachers with the tools and knowledge they need to inspire the younger generation, we also make a positive contribution to the country's digital skills development efforts beyond just Africa Code Week."
With more than 50,000 teachers trained and 4.1 million youth engaged across 37 countries since its inception in 2015, Africa Code Week has already made a lasting contribution to building local teaching capacity in digital education all over the continent. With more and more public, private and non-profit partners on board, the initiative is on a sustainable mission to impact many more schools, teachers and students in the years to come.
Ghana's Train-the-Trainer programme also enjoys the support of Africa Code Week partner DreamOval Foundation. According to Francis Ahene-Affoh, SVP of the DreamOval Foundation, the Train-the-Trainer workshops are also an opportunity to create, share and utilise knowledge in the education and technology sectors in the service of digital skills development. "Tremendous progress has been made to introduce more teachers and students to 21st century digital skills in Ghana. This year, we look forward to building on our successful partnership and bringing more youth into the digital fold."
Ghana will celebrate Africa Code Week from 14 to 25 October 2019. Further Train-the-Trainer workshops will be held in Nigeria on 10, 13 and 15 August, and in Kenya from 19 to 23 August. A full schedule of workshops and other Africa Code Week activities can be found on www.africacodeweek.org
Six surprising facts about teaching in Africa
• African countries are facing a massive challenge with finding teachers: an estimated 17 million are needed to achieve the goal of universal primary and secondary school education by 2030.
• Only one-quarter of pre-school teachers in sub-Saharan Africa are trained. About half of all upper secondary school teachers are trained.
• Sub-Saharan Africa has more than doubled the number of pupils enrolled in primary school between 1990 and 2015, from 60 million to 157 million.
• An estimated 65% of children starting primary school today will end up working in jobs that don't yet exist.
• Nearly two-thirds of employees working for African organisations in a recent World Bank study require at least basic digital skills to do their jobs.
• According to the World Bank, global employers consider digital skills to be among the top seven most important skills for the future workforce.
For more information, visit the SAP News Center. Follow SAP on Twitter at @sapnews, @SAPAfrica and @AfricaCodeWeek
Africa Code Week (ACW)
Spearheaded in 2015 by SAP's EMEA Corporate Social Responsibility department as part of its social investments to drive sustainable growth in Africa, Africa Code Week is instilling digital literacy and coding skills in the young generation, to drive sustainable learning impact across Africa. Strong partnerships with the public, private and non-profit sectors are the driving force behind the initiative's ability to drive sustainable learning impact in support of UN Sustainable Development Goals.
Africa Code Week has benefitted over 4 million young Africans so far and is now actively supported by UNESCO YouthMobile, BMZ, Google and over 130 partners and 120 ambassadors across the continent. SAP also works closely with UNESCO to increase girl participation in ACW workshops. The fifth edition of ACW will see thousands of free coding workshops organised for 1.5 million youth across 36 countries in October 2019, with a strong focus on girl empowerment and community capacity building.
Join SAP and partners by visiting www.africacodeweek.org to find out more.
About SAP
As the cloud company powered by SAP HANA®, SAP is the market leader in enterprise application software, helping companies of all sizes and in all industries run at their best: 77% of the world's transaction revenue touches an SAP® system. Our machine learning, Internet of Things (IoT), and advanced analytics technologies help turn customers' businesses into intelligent enterprises. SAP helps give people and organizations deep business insight and fosters collaboration that helps them stay ahead of their competition. We simplify technology for companies so they can consume our software the way they want – without disruption. Our end-to-end suite of applications and services enables more than 437,000 business and public customers to operate profitably, adapt continuously, and make a difference. With a global network of customers, partners, employees, and thought leaders, SAP helps the world run better and improve people's lives. For more information, visit www.sap.com.
# # #
Any statements contained in this document that are not historical facts are forward-looking statements as defined in the U.S. Private Securities Litigation Reform Act of 1995. Words such as "anticipate," "believe," "estimate," "expect," "forecast," "intend," "may," "plan," "project," "predict," "should" and "will" and similar expressions as they relate to SAP are intended to identify such forward-looking statements. SAP undertakes no obligation to publicly update or revise any forward-looking statements. All forward-looking statements are subject to various risks and uncertainties that could cause actual results to differ materially from expectations. The factors that could affect SAP's future financial results are discussed more fully in SAP's filings with the U.S. Securities and Exchange Commission ("SEC"), including SAP's most recent Annual Report on Form 20-F filed with the SEC. Readers are cautioned not to place undue reliance on these forward-looking statements, which speak only as of their dates.
© 2019 SAP SE. All rights reserved.
SAP and other SAP products and services mentioned herein as well as their respective logos are trademarks or registered trademarks of SAP SE in Germany and other countries. Please see https://www.sap.com/copyright for additional trademark information and notices.
For customers interested in learning more about SAP products:
South Africa: +27 11 235 6000
For more information, press only:
Adam Hunter, SAP Africa, +27 (711) 787 035, adam.hunter@sap.com
Delia Sieff, SAP Africa, +27 (11) 235 6000, delia.sieff@sap.com
By African Media Agency (AMA)