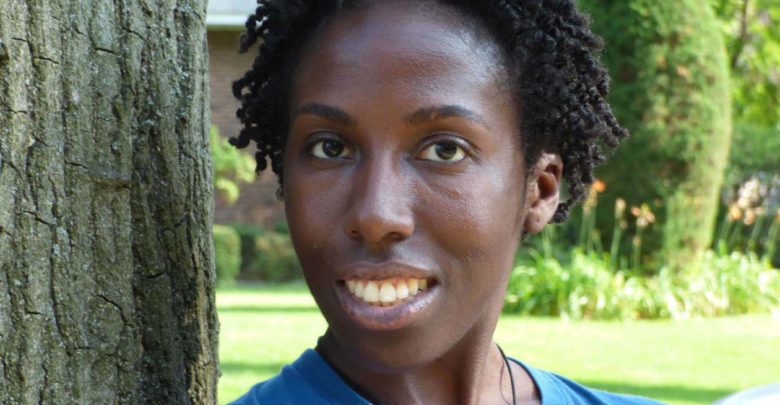 Jennifer N. Baker
was named the 
PW
 Star Watch "Superstar" for 2019 by 
Publishers Weekly
, in association with Frankfurter Buchmesse. Baker is, most notably, the founder and host of the podcast 
Minorities in Publishing
, as well as production editor at Teachers College Press in New York. The announcement came last evening at the Marquee Chelsea nightclub, in New York City, at the fifth annual celebration party co-hosted by 
Publishers Weekly
 and Frankfurter Buchmesse.
"Jennifer N. Baker is a dynamo. Not only is she a full-time production editor and podcast founder and host, but she is also a writer and editor, workshop teacher and arts volunteer," said Jim Milliot, editorial director of Publishers Weekly. "As the 2019 Superstar, she epitomizes the best of the best rising stars in publishing."
"We are so pleased to be honoring Jennifer and all of her hard work and commitment to the publishing community," said Juergen Boos, director of Frankfurter Buchmesse. "With her podcast and writing she is expanding the conversation around diversity in the industry and helping to share new voices in important ways."
In addition to her job as production editor at Teachers College Press and semimonthly podcasting duties at Minorities in Publishing, which was a finalist for the 2018 Digital Book World Best Use of Podcasting in Book Marketing Award, Baker teaches writing and editing workshops; is a contributing editor to Electric Literature, a quarterly digital and print-on-demand literary journal; and edited the short story collection Everyday People: The Color of Life—A Short Anthology (Atria, 2018). She also works with the nonprofit I, Too Arts Collective, which is dedicated to nurturing the arts in Harlem and operates out of the Langston Hughes House there. She was a 2017 NYSCA/NYFA Artist Fellow and Queens Council of the Arts New Work Grant winner.
As the PW Star Watch Superstar, Baker will head to the Frankfurt Book Fair next month, October 16 – 20, 2019, on a sponsored trip to the book fair, the largest in the world. The trip includes an All-Access Business & Conferences Ticket. In Frankfurt, she will be feted as part of the Young Talent program organized by Frankfurter Buchmesse, bringing together up-and-coming publishing talents from eight countries. The program includes an invitation to the official Opening Ceremony, a reception for all Young Talent winners organized by the fair and being part of further international networking events.
In addition to Baker, the 2019 PW Star Watch five finalists were Nicole Brinkley, floor and digital manager, Oblong Books & Music, Rhinebeck, N.Y.; Andrea DeWerd, marketing director, Currency, Convergent, Crown Forum and Image, New York City; Emily Folks, publishing sales director, Andrews McMeel, Kansas City, Mo.; and Nick Thomas, senior editor, Levine Querido, New York City.
A panel of judges comprised of Publishers Weekly editors, representatives from Frankfurter Buchmesse and other members of the publishing industry vetted nominations from across the publishing spectrum in Canada and the United States to identify 50 honorees, from which the jury then selected five finalists, who appeared in a profile in the September 9, 2019 issue of Publishers Weekly magazine. The Superstar was then determined by the same jury.
Jennifer N. Baker
PW Star Watch, now celebrating its fifth anniversary, was founded in 2015 in partnership with Frankfurter Buchmesse as a way to honor accomplished achievers in the U.S. and Canadian publishing communities and to bring recognition to them on a global stage.
2019 Star Watch Honorees
Margot Atwell, Senior Director, Publishing, Kickstarter, PBC
Andrea Baird, Marketing Manager, Triumph Books
Jennifer N. Baker, Creator and Host, Minorities in Publishing Podcast
Nicole Brinkley, Bookseller, Oblong Books and Music
Amanda and Rob Broder, Cofounders, Ripple Grove Press
Maddie Caldwell, Editor, Grand Central Publishing
Emily Day, Library Marketing Coordinator and YA Specialist, Macmillan
Marissa DeCuir, President, Partner, JKS Communications
Hannah Oliver Depp, Bookseller, Loyalty Bookstore
Andrea DeWard, Marketing Director, Penguin Random House
Grace Doyle, Editorial Director, Thomas & Mercer (Amazon Publishing)
Orlando Dos Reis, Editor, Scholastic
Emily Folks, Publishing Sales Director, Andrews McMeel Publishing
Lynn Ford, Internet Marketing Specialist, C&T Publishing
Gina Gagliano, Publishing Director, Random House Graphic
Naomi Gibbs, Senior Editor, Houghton Mifflin Harcourt
Adria Goetz, Literary Manager, Martin Literary & Media Management
Jennifer Griffiths, Designer, Penguin Random House Canada
Greg Hunter, Editorial Director, Lerner Publishing Group
Lori Kilkelly, Agent and Owner, LK Literary Agency
Na Kim, Art Director, Farrar, Straus and Giroux
Kevin Kushman, Director, Blue Manatee Literacy Project
Justin Paul Lawrence, Sales Director, InterVarsity Press
Heather Luciano, Publisher, Elsevier
Bethany Marshall, Publishing Director, Morgan James Publishing
Lauren Maturo, Senior Publicist, Blackstone
Sara Megibow, Senior Agent, KT Literary, LLC
David Moench, Director of Publicity, Del Rey, Random House, Penguin Random House
Carrie Montoya, Manager, Revisions and Author Care, Cognella
Josh Mosey, Children's Book Buyer, Baker Book House
Amber Oliver, Acquiring Editor, Harper Collins and Harper Perennial
Kwanza Osajyefo, Cofounder, Creator, Author, BLACK
Andy Perham, Bookseller, Books Inc.
Beth Phelan, Literary Agent, Gallt & Zacker Literary Agency
Amelia Possanza, Assistant Director of Publicity, Flatiron Books
Jennifer Powell, Director of Rights and Co-editions, Scholastic
Joshua Redlich, Senior Publicist, Random House Children's Books
Clare Reeth, Director, Literary Affairs, 20th Century Fox/Disney
Benjamin Rosenthal, Executive Editor, HarperCollins/Katherine Tegen Books
Noelle Santos, Founder and Bookseller, The Lit Bar
Brian Skulnik, Managing Editor, RosettaBooks
Clay Stafford, President, CEO, Founder, Killer Nashville
Taneka Stotts, Cofounder, Editor, Creator, Author, Beyond Press
Brent Taylor, Literary Agent, Triada US Literary Agency
Nick Thomas, Senior Editor, Levine Querido
Emily Tyler, Digital Product Manager, Rowman & Littlefield
Danny Vasquez, Acquiring Editor, Farrar, Straus and Giroux
Ivy Noelle Weir, Publicist and Marketing Manager, Quirk Books
Reid Welsh, Senior Analyst, Sales Business Development, Penguin Random House
Denis Woychuk, Founder, KGB Bar and Literary Series
About Publishers Weekly
Publishers Weekly is the international news platform of the book publishing industry. Founded in 1872 and published weekly since then, the magazine boasts 1.23 million social media followers; publishes 10 e-newsletters, BookLife (a website and monthly supplement), two blogs, podcasts, a mobile edition, digital editions and apps; and features a thriving website that reaches 14 million unique visitors annually.
About Frankfurter Buchmesse
Frankfurter Buchmesse is the international publishing industry's biggest trade fair—with over 7,500 exhibitors from 109 countries, around 285,000 visitors, over 4,000 events and some 10,000 accredited journalists and bloggers in attendance. It is the most important international marketplace for content—from novels and children's books to academic databases and stories for films, games and virtual reality experiences. Publishing professionals from around the world meet here with partners from the technology sector and from related creative and cultural industries, sparking new partnerships and business models. A strong conference program ensures that Frankfurter Buchmesse is a major source of inspiration for content experts from around the world. Since 1976, the book fair has featured an annual Guest of Honor country, which showcases its book market, literature and culture to attendees in a variety of ways. Frankfurter Buchmesse organizes the participation of German publishers at around 20 international book fairs and hosts trade events throughout the year in major international markets. Frankfurter Buchmesse is a subsidiary of the Börsenverein des Deutschen Buchhandels (German Publishers & Booksellers Association).
Websites
www.publishersweekly.com/starwatch19
www.buchmesse.de
High-res photo of Jennifer N. Baker, photo credit Sean Sime
For more information, contact Christi Cassidy, +1-917-217-4269, ccassidy@publishersweekly.com, or Erin Cox, +1-347-581-0211, erinlcox@gmail.com.