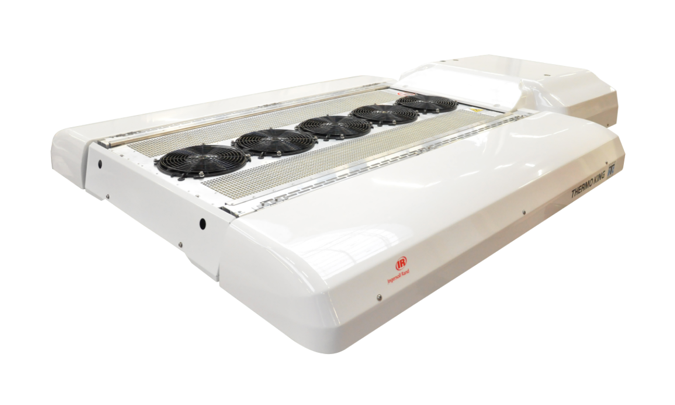 Thermo King®, a leader in transport temperature control solutions for a variety of mobile applications and a brand of Ingersoll Rand, will welcome visitors at the booth 134B, in Hall 1 of the Busworld Europe show in Brussels, Belgium, from the 18th to the 23rd of October 2019. At the show, Thermo King will premiere the latest heating, ventilation and air-conditioning (HVAC) solutions driven by the sustainable passenger transport including the next generation of the proven Athenia™ heat pumps and new lightweight TDD units for double deck buses.
The next generation of the Thermo King Athenia™ MkII Electric Heat Pump range, offers almost up to 30 percent more heating power and efficiency compared to its predecessor, providing customers with the most efficient way of heating or cooling in hybrid and electric buses.
"We're coming to Busworld to demonstrate solutions that today define the future of sustainable passenger transport," said Urszula von Kreijfelt, commercial director of Bus Transport Solution for Europe, Middle East and Africa at Thermo King. "Our innovations address the increasing importance of sustainable transportation in Europe and issues like rapidly increasing traffic congestion, air pollution and noise. The new units in the Athenia range show the most efficient way of achieving heating and cooling performances in hybrid and electric buses and are suitable for low and zero emissions zones."
The units from the Athenia™ electric heat pump range provide comfort cooling and heating to over a thousand electric and hybrid buses across Europe. The next generation units introduced at Busworld 2019 feature a bigger external coil, battery cooling and now even heating option and optimized control system, which, depending on the operating conditions, contribute to up to 26 percent more heating power and up to 33 percent more efficiency compared to the previous generation.
With the new TDD units, Thermo King leverages its global experience in delivering air-conditioning units to double deck busses in countries like Switzerland, Canada, USA, Mexico, Australia, New Zealand and Hong Kong to address the growing popularity of double deck buses in Europe. The new units presented at the show are designed for double deck buses and in addition to lower weight can be equipped with an electrostatic air filter allowing to filter smaller particles and extend the filter-cleaning interval by up to 10 times.
About Ingersoll Rand
Ingersoll Rand (NYSE:IR) advances the quality of life by creating comfortable, sustainable and efficient environments. Our people and our family of brands—including Club Car®, Ingersoll Rand®, Thermo King® and Trane®—work together to enhance the quality and comfort of air in homes and buildings; transport and protect food and perishables; and increase industrial productivity and efficiency. We are a global business committed to a world of sustainable progress and enduring results. Thermo King Corp. was founded in 1938 and manufactures transport temperature control systems for a variety of mobile applications, including trailers, truck bodies, buses, shipboard containers and railway cars. For more information, visit www.ingersollrand.com or www.thermoking.com.
Source: Karkoszka, Michal, Busworld 2019