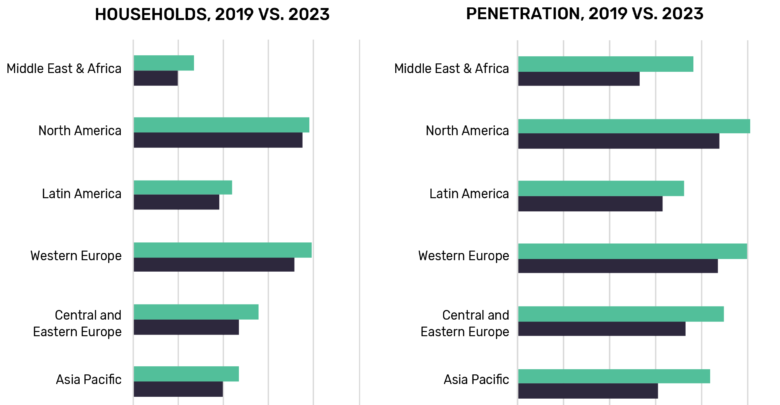 Technological developments are playing an important role in over-the-top (OTT) video consumption and growth in Africa and the Middle East (AME), according to GlobalData, a leading data and analytics company.
New technological developments in video streaming and data compression may enable populations in regions with poor infrastructure to view online video content. For instance, V-Nova and Simplestream are to roll out a service in 2019 that should allow people to watch videos, even on 2G networks, with a bit rate of only 100 kilobits per second (Kbps) and just one megabit per second (Mbps) for full HD.
Jonathan Bachrach, Telecom Market Data and Intelligence Senior Analyst at GlobalData, commented: "OTT video players face a challenge with a number of AME countries having a relatively low broadband adoption and slow broadband speeds. Fixed and mobile broadband penetration in AME are low in comparison to other regions, reaching an estimated 19% and 53% respectively at the end of 2019.
Image for publication: Please click here
Despite the low broadband penetration, the AME OTT video market will continue to grow as an increasing number of firms, such as Netflix and StarzPlay, offer content viewing offline, as well as better technology to adapt the streaming quality to the customer's data download speed.
Bachrach adds: "In addition to OTT companies improving their own technology, an increasing number of OTT video platforms are setting up alliances with telecom and pay-TV service providers. These partnerships leverage the telco's direct carrier billing (DCB) technology and large subscription base coverage to increase OTT video adoption. DCB technology can make it easy for consumers to subscribe to OTT video services as it allows mobile subscribers to purchase OTT video content without the need for a credit card."
About GlobalData
4,000 of the world's largest companies, including over 70% of FTSE 100 and 60% of Fortune 100 companies, make more timely and better business decisions thanks to GlobalData's unique data, expert analysis and innovative solutions, all in one platform. GlobalData's mission is to help our clients decode the future to be more successful and innovative across a range of industries, including the healthcare, consumer, retail, financial, technology and professional services sectors. PR6857
Source: GlobalData