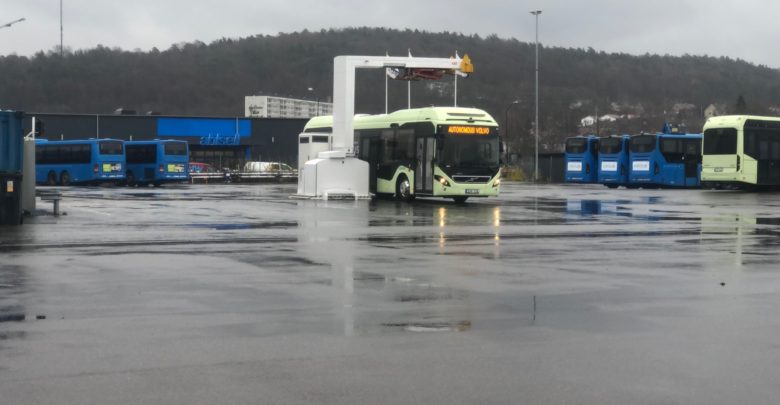 On 12 November 2019, Keolis and Volvo demonstrated a 12-metre long electric bus at the
Keolis depot in Gothenburg, Sweden, able to park, wash and charge itself completely
autonomously.
The demonstration was given by Håkan Agnevall, CEO of Volvo Bus, and
Jan Kilström, CEO of Keolis Sweden, to Lars Backström, CEO of Västtrafik (Gothenburg
PTA), Malin Andersson, Head of Development and International Affairs, City of Gothenburg,
and Mats Peterson, Local Business Manager for Electrification at ABB, among other
attendees.
Thanks to software developed by Volvo, the bus is controlled and monitored from a control
room. Automating the operations performed in the bus depot reduces the time the buses
spend there, which means that fleet availability is increased, and the size of the depot can
be reduced. It also minimises the risk of collisions and optimises safety. Finally, it enables
the bus to come to the driver, rather than the driver going to the bus.
A pioneer in autonomous vehicles, Keolis has been testing autonomous shuttles since 2016
with its partner Navya. Since then, Keolis has started operating autonomous shuttles in
other cities in France including Paris, Rennes and Lille as well as in the UK, Australia,
Canada, the US and Belgium. Since 2016, Keolis has carried 170,000 passengers in
autonomous vehicles over 75,000 km.
In the context of a growing autonomous vehicle
market, Keolis is collaborating with Ericsson, a leader in mobile networks, to use 5G
technology to remotely control and supervise autonomous vehicle fleets. http://www.keolis.com