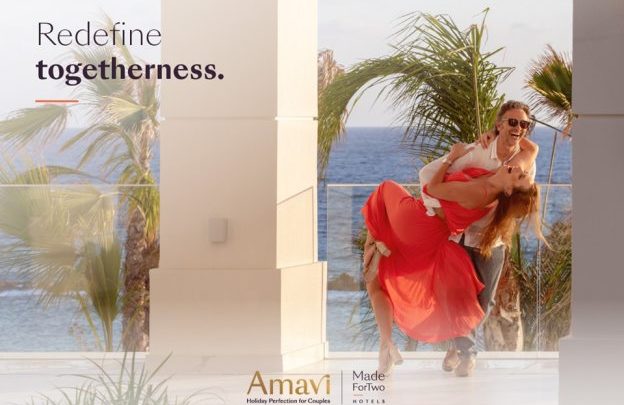 We don't have time to enjoy the attention of each other in the hectic everyday days. Harmony in the family will be retained, but you need to disconnect from everyday problems and just spend time with your beloved. It's really when it's warm, comfortable, beautiful and very tasty. The Amavi Hotel, this year's winner of Luxury Lifestyle Awards in the category of Luxury Hotel in Cyprus, has made it possible for you! The Amavi Hotel in Paphos is the first member of Made For Two Hotels, a new and proprietary brand launched by Kanika Hotels & Resorts. Made For Two Hotels offer couples sophisticated side-by-side holiday experiences, enhanced with unobtrusive and personalized guest services that spark that honeymoon feeling.
The Amavi Hotel situated on the golden sands of a Blue Flag certified beach in Paphos, it offers unobstructed sea view and enchanting sunsets. Here you'll experience the finest luxury, whether that's soaking up one of our skincare treatments or simply soothing your ears to sounds of the Mediterranean from your balcony. Undoubtedly, one of the reasons Amavi stands out from its competitors is creating an incredible atmosphere for a couple.

The main feature of the hotel is that it was created for couples. The hotel concept is about relaxing and reconnecting throughout your stay. Be it sumptuous massages treatment or cocktails at the poolside. The personal create a uniquely intimate environment for a perfect holiday. One of the privileges you will enjoy at the Amavi Hotel is the extensive range of Evera spa and wellness facilities, which all inspire relaxation and renewal. They include a fitness center, spa complex, hair salon, and makeup service. Spa facilities include spacious treatment and relaxation rooms, sauna and steam bath, with dedicated consultants to advise and assist you. The Evera Health Club is designed to help you maintain your fitness routine or encourage you to take the first step towards better health. You can also use the services of a hairdresser and makeup artist to get together for a romantic date with your partner.
The hotel restaurants include local and international flavors, formal indoor and outdoor settings with spectacular views, live cooking, fusion tasting, and the freshest ingredients.
Each of the Amavi hotel's five types of accommodation has its own distinctive décor, but all are strikingly stylish, with a sense of luxury and a magnetic sea view of Paphos, Cyprus. With ensuite bath, private balcony or terrace, and serviced daily, they all offer a host of other home comforts, while in-room technology takes hospitality to the next level. Thanks to art in-room technology, lighting is automatic for maximum convenience, wake-up calls can be easily programmed, while room cleaning notification and do-not-disturb signs can be activated according to your needs.
All rooms and suites are non-smoking, air-conditioned, with free WiFi and all equipped with flat-screen TVs with satellite stations and radio channels, hairdryer, telephone, in-room safe and ironing facilities.
At the Amavi Hotel in Paphos, variety, quality and intimacy come together in Half Board Premium gastronomy and culinary concept.
The hotel is perfect for weddings, honeymoons, and anniversaries. You can be sure that spending your holiday at Amavi will give your relationships a new breath and unforgettable impressions. And your heart will be filled with love!
About Luxury Lifestyle Awards
Luxury Lifestyle Awards is a global award selecting, recognizing, celebrating and promoting the best luxury goods and services all over the world.
The goal of the company is to connect people with the best of luxury. LLA has evaluated more than 10 000 various goods and services in 400 categories from 60 countries and analyzed the results to give you a TOP list of the best of the best in the world. Such world-renowned brands as Chanel, Dom Perignon, and Ferrari were proudly named winners. The victory brings companies status and recognition, global promotion and exposure to an entirely new market of customers.
For more information, please visit: https://luxurylifestyleawards.com/
www.delreport.com