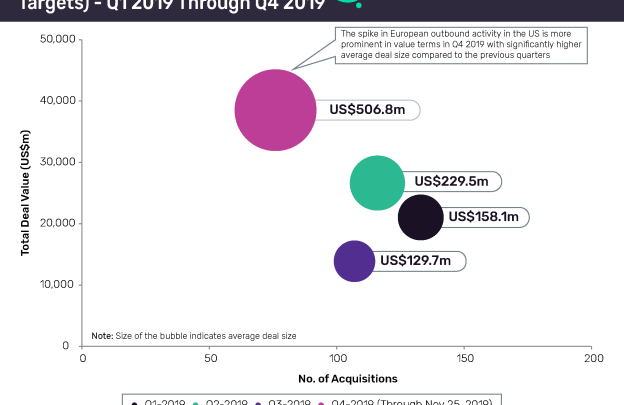 Uncertainty over Brexit and the ongoing worldwide economic uncertainty seem to be taking a toll on the deal-making activity in the European region as there has been a noticeable growth in European outbound acquisitions involving American targets in recent times, observes GlobalData, a leading data and analytics company.
More than 430 deals worth US$100bn involving the acquisition of American targets by European companies were announced between 1 January and 25 November in 2019.
The number continues to accelerate with volume of such transactions increasing from 35 during October 2019 to 41 during 1-25 November 2019.
Aurojyoti Bose, Lead Analyst at GlobalData, says: "This can be attributed to the growing attractiveness of the US compared to its European counterparts. Uncertainty over Brexit and its impact on Europe and trade policies is denting corporate confidence towards deal-making in the region with companies looking for growth avenues abroad. Moreover, easy access to capital through alternative lenders in Europe also spurs the appetite for acquisitions."
Regulatory intervention by agencies such as the European Commission and the UK's Competition and Markets Authority (CMA) in the recent past resulting in failed deals (such as Sainsbury-Asda and Siemens-Alstom) might also have prevented European corporates from exploring M&A targets within the region.
Bose adds: "The US is a market with large scale that offers economic prospects and pro-business environment for European companies. The drop in the US corporate tax rate in late 2017 made US businesses more attractive for European investors/acquirers. The wave of M&A activity can also be attributed to the optimism over US-China trade talks with both countries moving towards striking a deal."
IMAGE FOR PUBLICATION: Please click here for enlarged chart
The spike in European outbound activity in the US is more prominent in value terms in Q4 2019 (through 25 November 2019) compared to the previous quarters in 2019.
The average deal size in Q4 2019 stood at US$506.7m, which was significantly higher compared to all previous quarters, an indication of announcement of big-ticket deals during the current quarter.
While the number of billion-dollar deals stood at five in Q2 2019 and four in Q3 2019, Q4 2019 (through November 25, 2019) has already witnessed six deals with close to a month to go in 2019.
Some of the notable high-value European outbound acquisition deals involving American targets announced during the current quarter include: the acquisition of Tiffany by LVMH Moet Hennessy Louis Vuitton for more than US$16bn; the acquisition of The Medicines Company by Novartis AG for US$9.7bn; the takeover of StubHub by Viagogo for US$4.1bn; and the acquisition of Ra Pharma by UCB for US$2.1bn.
The UK accounted for about 50% of the outbound acquisition volume (involving American targets) while France led in terms of total value with 45% share in Q4 2019 on the back of the LVMH-Tiffany deal.
Bose concludes: "With Brexit uncertainty, the US is likely to remain an attractive investment destination for European acquirers. However, heightened government scrutiny of deals, political intervention and protectionism, and the regulatory environment in the US are likely to remain challenging for cross-border M&As."