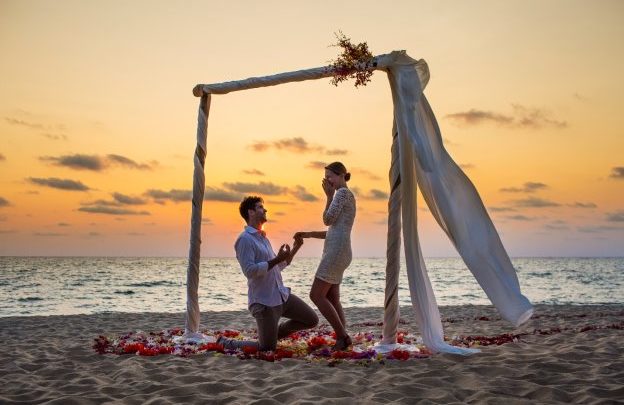 Some people say that love doesn't know dates, and this glowing feeling undoubtedly deserves to be valued and appreciated at every opportunity. But still, St. Valentine's Day is probably a perfect excuse to try some new breathtaking experiences together with your loved one and create unforgettable memories just for two of you. When you feel that diamonds, flowers, and sweets are not enough to express your love, why don't you take your significant other and have a memorable time in the most romantic place you both could think of?
Experts of Luxury Lifestyle Awards know how to select the best luxury brands in different industries around the world. And on the eve of Valentine's Day, we are happy to present you with our Guide for the best places, destinations and ideas to have an exclusive romantic experience for this celebration. Love can put the whole world at your feet, and we will highlight different corners of the globe to spend your fabulous Valentine's Day. Below is the list of the Luxury Lifestyle Awards Winners that can offer you the ideal setting to show your love in a very special way.
The Best Luxury Hotel in Cyprus
There are places that are suitable for the year-round celebration of Valentine's Day, and Amavi – Made for Two Hotels is one of them. Here you and your beloved person can have your personal celebration of love every day, but on the eve of 14 February, you get even more holiday perfection for couples. A perfect beginning of Valentine's Day will be breakfast in bed "Made For Two" and enjoying the breathtaking view of the Mediterranean Sea. Later you can pamper yourself and your loved one with a relaxing couples massage for 55 minutes including a half bottle of Champagne. This day will become brighter with the surprise Valentine amenities in your room and buffet dinner at the hotel's Ezaria Restaurant with live music or "7 courses set dinner menu in Nocturne", with paired wines and the melodies of love played by the pianist.
The Best Luxury Boutique Hotel in Mykonos, Greece
Mykonos, a picturesque Greek island, is always ready to provide you with the ambiance of relaxation and calmness. This is one of the best places for a memorable getaway with someone you love, and the luxury boutique hotel Mykonos No5 realizes the full romantic potential of the lovely island. The hotel is located on a hill in Kanalia Village – a quiet place, where unobstructed view all over the Aegean Sea meets endlessly seductive vibe and the odor from the hotel's fresh products.
Celebrate Valentine's Day with Exclusive Deal from Mykonos No5 – Breakfast & Roundtrip Transfers Inclusive (20% discount on the Non-refundable rate for the Signature Suite Sea View with Private Pool and the Two-Bedroom Suite Sea View with Private Pool).
The Best Luxury Restaurant in Bangkok, Thailand
Add some oriental exotics to your St. Valentine's Day – celebrate your love at Benihana at Avani Atrium, the award-winning Japanese steakhouse in Bangkok. You and your beloved ones are invited to take your seats for a delightful evening and a romantic set menu. The dinner starts with a refreshing mocktail and a red rose at the table. The talented private chefs will serve your sumptuous dishes in spectacular style and entertain you with their culinary trickery and artistic performance. This unforgettable evening will be highlighted by a heart-shaped strawberry cake for two.
The Best Luxury Beach Resort, Ko Samui, Thailand
Experience the privacy and luxury of the rooms and villas offered by Silavadee Pool Spa Resort. This is a place of tranquility, where you can spend the most romantic time with the person you love far from the hustle and bustle of everyday life. You will find a perfect hideaway in your private pool villa with breathtaking views over the Gulf of Thailand. Here you can celebrate on the most romantic nights of the year with "Once In A Lifetime" Dom Perignon personalized 6-course private dinner with a 360-degree ocean view. Or you can take a 4-hours "Sunset Cruise" with a Silavadee private boat.
La Veranda Resort Phú Quôc – MGallery
The Best Luxury Hotel in Vietnam
If your plans for 14th February are to search for private sanctuaries and find solitude with someone special, then La Veranda Resort Phú Quốc – MGallery is the place to be. This exceptional hotel is located on the marvelous Phú Quốc Island transporting you to a timeless age of romance. Your love celebration will be guided by a dedicated Romance Concierge that has crafted a special menu of 12 romantic experiences designed to add a touch of magic to couples' experience. But she will always be there to cater to your individual needs so that you could have a Valentine's Day of your own dream.
Vintry & Mercer Hotel
The Best Luxury Boutique Hotel London, United Kingdom
Find a perfect getaway for Valentine's Day in the heart of the City of London. Vintry & Mercer is a place, where loving couples can find tastefully designed bedrooms, enormous velvet headboards and an iconic location just footsteps from the Thames. On the 14th of February, you will receive, up on request, a welcome gift on arrival, full of romantic treats to make this day extra special. Why not brighten up your evening by booking an intimate dinner at the skyline restaurant, Mercer Roof Terrace. Here you'll be served a special five-course Valentine's menu, as you enjoy the views that sweep from St Paul's to The Shard.
The Best Luxury Villa in Tuscany, Florence Area, Italy
The splendid Villa la Pietrina located in the heart of Tuscany can become a perfect getaway not only from the hustle and bustle of the crowded cities but also from the present time to the past. The skillfully renovated 17th Century house is immersed in the greenery of Chianti vineyards and olive groves and offers amazing views of the surrounding hillsides. The coziness and comfort of the Tuscan style rooms, along with the villa's relaxing and welcoming atmosphere will make an ideal place to stay for Valentine's Day.
Steigenberger Alcazar Hotel
The Best Luxury Resort in Sharm El Sheikh, Egypt
This impressive and luxurious five-star hotel is a truly amazing destination for a romantic getaway even at the usual times. But on the eve of Valentine's Day, it turns into an ideal stay for the couples in love. The celebratory atmosphere is provided by Valentine's decoration all over the Steigenberger Alcazar Hotel and animation team program inspired by the occasion. If you come here on the 14th of February, you'll receive Red Roses bouquet upon arrival, and your room will have a special room amenity. You can also have a couples' breakfast in the pool and a romantic dinner on the resort's 35,000 square meters private beach to conclude this perfect evening.
The Best Luxury Beach Resort in Belek, Turkey
Love itself is a magical feeling, so why not combine it with the magic of the enchanting beauty of the Mediterranean spirit? Spice Hotel &SPA invites you and your soulmate to a mysterious world of East to spice up your love on Valentine's Day. The luxury hotel's professional team will take care of adding some special Turkish spices into your romantic celebration. Special decoration of your room, wine and deluxe fruits basket, body and soul refreshment in the famous SPA Center, pleasant walks on the longest beach in the city will be perfect ingredients for the delightful holiday.
The Best Luxury Hotel in Kyiv, Ukraine
As the trendsetter of hospitality standards, the 5-star Fairmont Grand Hotel Kyiv can present you with a new level of romance for 14 February. This hotel is an epitome of luxury and elegance located in the historic downtown of the capital of Ukraine. You can have a wonderful day walking around the district and sightseeing together, visit the hotel's SPA retreat, have dinner in a sumptuous VOGUE Café Kyiv or order in-room dining in the privacy of your guest room.
Gift ideas
Wherever you and your other half spend Valentine's Day, the main thing is still emotions. And if you want to increase these emotions, there's nothing better than a unique and memorable gift from hand to hand. We hope that our recommendations will help you make your beloved one happy this day.
Liza Borzaya – High Jewelry for Her
The Best Luxury Local Jewelry Brand in Moscow, Russia
Jewelry never loses its relevance. Especially when speaking of high jewelry of Liza Borzaya brand. Unique and audacious, luxury and creative, bright and colorful, this jewelry always finds its way to the woman's heart. Liza herself says that her works are meant to be comfortable for everyday wear and pleasing to the eye. It sounds like a description of the best present for a woman, doesn't it?
Fünwood – Unique Things for Him
The Best Luxury Furniture and Homeware in Taiwan
Love brings us happiness and fun – just like the products of the brand Fünwood. A unique combination of wood and metal helps the team of Fünwood create simple and expertly designed products. And it seems that some of the brand's items were created specifically as perfect gifts for men on Valentine's Day. Artistic wooden FIFA World Cup ball, cute and functional bottle opener, creative wooden clock, exclusive unplugged speaker EcHome made of copper and wood – any of these products can become a delightful gift for a man from the woman he loves.
About Luxury Lifestyle Awards
Luxury Lifestyle Awards is a global award selecting, recognizing, celebrating and promoting the best luxury goods and services all over the world.
The goal of the company is to connect people with the best of luxury. LLA has evaluated more than 10 000 various goods and services in 400 categories from 60 countries and analyzed the results to give you a TOP list of the best of the best in the world. Such world-renowned brands as Chanel, Dom Perignon, and Ferrari were proudly named winners. The victory brings companies status and recognition, global promotion and exposure to an entirely new market of customers.
For more information, please visit: https://luxurylifestyleawards.com/
Source:(Luxury Lifestyle Awards) for www.delreport.com