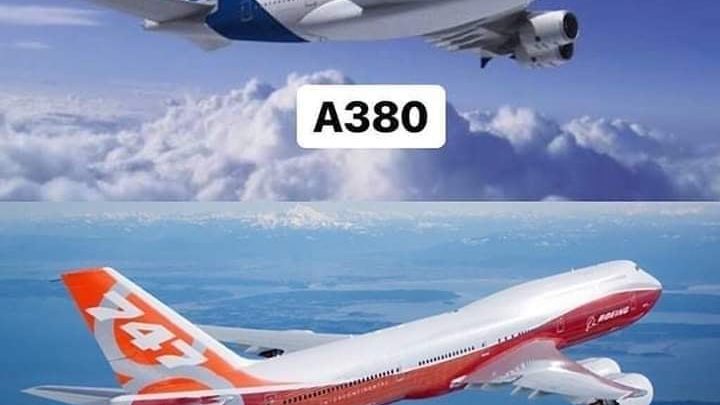 Would you agree that Airbus' double-decker A380 and Boeing's Queen of the Skies 747 are the icons of modern commercial aviation? At least to some extent.
Identifiable contrails, distinctive engines' sound and a breathtaking view of giants manoeuvring among other planes around the airport.
Not to omit the detail that most of plane emojis, gifs and memes available on the Internet usually involve particularly these aircraft types as well. Have you ever notice it?
Emirates Airbus A380
Nevertheless, even the exceptional place that these planes occupy in most of aviation professionals', enthusiasts' and frequent fliers' hearts could not change the fact that step by step the era of Boeing 747 and Airbus A380 is coming to an end.
Weak Demand and High Costs
As currently airlines' fleets remain safely parked, companies have enough time to evaluate their aircraft and make wise decision as to an optimal re-launch of operations.
According to the latest estimations, domestic markets will begin reviving first. For local travels within countries or smaller regions airlines definitely will not need their biggest planes.
Higher operational costs along with nearly empty planes will force operators to put back into service only the most efficient birds. At least at the beginning. Therefore, in a short-term perspective, carriers will primarily unground smaller jets.
This way, under the biggest threat appear long-haul planes, especially the oldest and most expensive widebodies. The Airbus A380 and Boeing 747 are topping the list.
If before the crisis the phase-out plans for these two types were active, but rather slow and forward-looking, now many airlines are accelerating retirement even ahead of the schedule.
The recent moves from across the airlines suggest that after aviation is cleared for take-off, quite a number of these widebodies will remain permanently grounded.
Airbus A380: from Crisis to New Opportunities?
In fact, the distant future of the A380 type was decided last year, when Airbus announced about the end of the giant's production in 2021. With the introduction and development of more efficient and newer aircraft, such as A350s or Boeing 777s, 787s, the demand for costly A380s has notably decreased.
Although Airbus is still building A380 to deliver the last units left on the order list, in the face of the crisis even the most loyal customers such as Emirates, Singapore Airlines or Air France, are decommissioning this type quicker than expected.
In the current situation, such decisions seem to be reasonable and simple to explain. Airlines are putting all the efforts to survive and protect their existence.
Although 115 Airbus A380 aircraft in the fleet of Emirates (with eight more to be delivered in the future) still form the backbone of the carrier's operations, its CEO has already previously mentioned about Emirate's aim to restructure its fleet and supplement it with more efficient units.
In April, another A380 customer announced permanently decommissioning six double-deckers, and it is Lufthansa. Also, a loyal European customer Air France, which retired its first A380 last year, has recently said it will accelerate the phase-out of Airbus biggest commercial planes.
Nevertheless, it does not necessarily mean that we will not see these aircraft back in the air. Still a great number of operators have A380s in their fleets and some day they will return to passenger services.
Worth highlighting, though, that there is a great potential for Airbus A380 aircraft become popular in another role than a passenger jet – as a freighter. It is possible that airlines could choose to convert their passenger A380s to cargo planes.
Currently, Lufthansa Technic is working on the A380 cabin modification to carry cargo. Who knows, maybe this will begin the new era for Airbus A380 operations. Each crisis brings not only negative impacts, but also positive opportunities.
Boeing 747: 'Queen of the Skies' Riding off into the Sunset?
The Boeing 747 aircraft is much older than the A380. Last year Boeing celebrated 50 years since the first 747 flight. Thus, retirements of 747 planes are likely to happen with higher frequency not only because of the crisis and costs but also due to the age.
For example, one of the biggest operators of the type, British Airways, has revealed that it is considering earlier permanent grounding of its 747 fleet. The month of May has began with the news from Virgin Atlantic which decided to retire all seven of its 747s.
Boeing 747
Last month, Lufthansa, the German flag carrier, announced that it will retire five 747s.
The fate of Boeing 747 planes at KLM Royal Dutch Airlines is very questionable as well. The carrier is thinking about the retirement of its four-engined giants. On the edge of not flying again are the 747s at Qantas. The flag carrier of Australia prior to the crisis was set to retire six Boeing jets by the end of 2020.
As Emirates president Tim Clark said: "We know the A380 is over, the 747 is over". Nevertheless, it would still take at least a decade until we see the last planes of these two types bidding their final farewell.
Source: https://aviationvoice.com/airbus-a380-and-boeing-747-fate-after-the-crisis-202005121133/