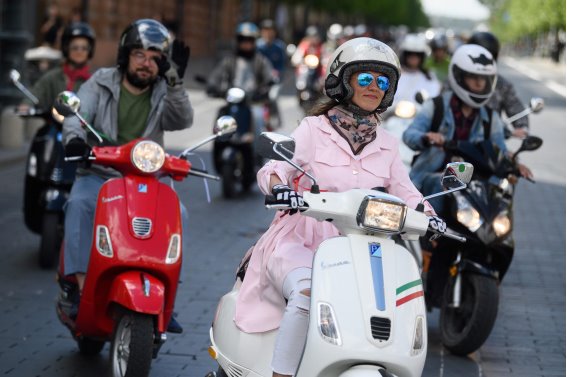 This summer Lithuanian tourists may experience global travel without leaving their home country. Every second weekend the Lithuanian capital Vilnius celebrates one of the world cultures. The first weekend, dedicated to Italian culture, proved a success.
As international travel is still restricted because of the COVID-19 pandemic, the city of Vilnius decided to bring the world to Lithuania. Throughout the summer, the colours, aromas and sounds of one of the world cultures are going to create a unique experience for local tourists. The slogan of the event says that "vacation abroad is now offered in Vilnius."
Lithuanians will gain knowledge of foreign lands by just visiting their capital. The Italian weekend has already swept through Vilnius, and the cultures of India, the USA, France, Spain, Germany and Japan are next on the list.
"Once again we take creative way to sustain the tourism during the global COVID-19 pandemic," says Remigijus Šimašius, the mayor of Vilnius. "It is important to open the world experience to people who miss travel. That's why we started this project. We want to provide positive emotions, such as the joy of travel and discovery of new cultures, in a healthy and safe environment".
According to him, many of Vilnius tour operators, restaurants, hotels, transports operators and other businesses, local communities and artists joined their efforts to create these unique experiences. The presentations of foreign cultures include food experiences, concerts and exhibitions, educational events, special projects for children, thematic guided tours and other attractions.
"Businesses not only create unique special programmes and events for our project, but also adjust their prices, making the services more affordable to local tourists," – explained Inga Romanovskienė, director of the official tourism agency of the city, Go Vilnius. "Quality hotels provide a unique opportunity to test their services. Thanks to railway, bus and parking operators, Vilnius becomes more open and easy to reach during these weekends".
She pointed out the success of the Italian weekend, which attracted hundreds of visitors to Vilnius. The presentation of Vespa scooters and the Venetian-carnival-themed performance in the artistic neighborhood of Užupis were the most popular highlights of the weekend. Italian-themed family events, concerts and restaurants serving special dishes all were favoured by visitors.
Due to quarantine and gathering restrictions, the events were dispersed around the city. This arrangement ensured that event attendee numbers did not exceed recommended limits. Hundreds of people enjoyed guided tours and other events while observing all necessary health requirements.
On June 19-21 Vilnius will invite with an Indian-themed weekend, with the USA-themed and French weekends following in July.
ABOUT GO VILNIUS
Go Vilnius is the official tourism and business development agency of the City of Vilnius. The agency provides visitors, investors, relocating talent, entrepreneurs and businesses with all the essential information they need to know about the Lithuanian capital. Go Vilnius offers information on everything from real estate to leisure activities in Vilnius, simplifying the process of traveling, relocating to, or investing in Vilnius