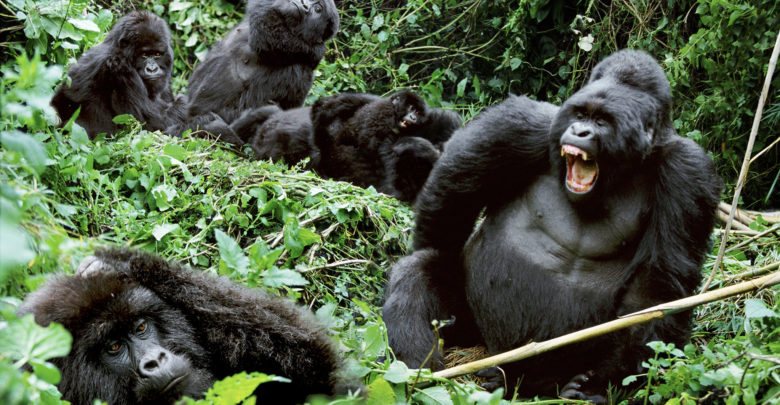 KILLING OF MOUNTAIN GORILLA IN UGANDA IS FIRST BIG BLOW TO HIGHLY ENDANGERED SPECIES DURING COVID-19
AWF mourns the death of 'Rafiki' as a monumental loss for mountain gorilla range in Uganda, Rwanda, DRC; Underscores growing economic drivers from loss of tourism, including but not limited to food security, increased poaching and human-wildlife conflict
– African Wildlife Foundation (AWF) today mourns the loss of Rafiki, a famed silverback gorilla and member of the Nkuringo group in the Bwindi Impenetrable Forest, located in south-western Uganda in the Kanungu District. During the COVID-19 pandemic, government lockdowns in African countries have created new economic challenges for communities and worsened existing ones, such as food security and hunting for bushmeat, which open the door to increased human-wildlife conflict.
AWF Senior Vice President Craig Sholley commented on the tragic events:  "I am saddened and sickened to learn of the killing of a mountain gorilla in – a scenario that may have been preventable under normal circumstances. Rafiki was the epitome of a 'gentle giant' and this senseless act will reverberate across conservation networks and protected areas. During the Covid pandemic, the loss of gorilla tourism revenue and the daily protection that goes with it has created challenges for wildlife authorities and the communities who regularly benefit from gorilla tourism revenue.  Conservation in Uganda and elsewhere throughout Africa is facing unprecedented challenges as impoverished families are struggling with food security and more during Coronavirus. As the pandemic continues, I am frightened that we will see more incidents like this one – incidents that target Africa's most iconic species."
AWF is present in 15 African countries with programs focusing on wildlife conservation, land and habitat protection, community empowerment and policy.
About Craig Sholley
Craig's experiences with wildlife and conservation began in 1973 as a Peace Corps volunteer in Zaire. As an L.S.B. Leakey grant researcher in the late 1970s, Craig studied mountain gorillas with Dian Fossey and, in 1987, became director of Rwanda's Mountain Gorilla Project, of which African Wildlife Foundation was a sponsor. Craig has acted as Scientific Advisor for the award-winning IMAX film, "Mountain Gorilla," and with National Geographic, he surveyed the conservation status of mountain gorillas in the aftermath of Rwanda's civil war. Craig's direct involvement with AWF began as a Senior Associate and member of AWF's Board of Trustees. He became a full-time employee of AWF in 2001 and now serves as Senior Vice President.
Mountain Gorilla Resources
You can find more information on mountain gorillas and conservation challenges here: https://www.awf.org/wildlife-conservation/mountain-gorilla.  AWF has a long history in mountain gorilla conservation, work with the Rwandan government to expand critical mountain gorilla habitat in Volcanoes National Park, pioneering conservation lodges benefitting communities and mountain gorillas alike (Clouds Mountain Gorilla Lodge and Sabyinyo Silverback Lodge) and support for ranger-based monitoring, anti-poaching efforts.
About African Wildlife Foundation
The African Wildlife Foundation (http://www.awf.org) is the primary advocate for the protection of wildlife and wild lands as an essential part of a modern and prosperous Africa. Founded in 1961 to focus on Africa's conservation needs, we articulate a uniquely African vision, bridge science and public policy, and demonstrate the benefits of conservation to ensure the survival of the continent's wildlife and wild lands. Editor's Note:  Photographs of Rafiki are available upon request.  AWF Vice President Craig Sholley is available for telephone interview by request.