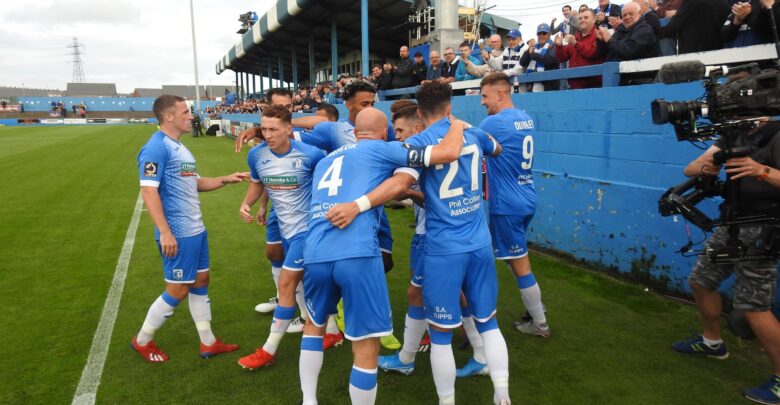 The Bluebirds sealed their long-awaited promotion when it was confirmed that the National League table toppers would indeed take their place in League Two next season.
It's been an agonising wait for the players, manager, fans, board and everyone connected with the club as a series of decisions took place after clubs voted to end the National League and League Two seasons early due to COVID-19.
When games were halted by the coronavirus outbreak in March, Ian Evatt's heroes occupied the National League's one automatic promotion place, a position they have held since November. 
But only now can the Bluebirds pop the champagne corks and truly celebrate being crowned champions and winning their rightful place in the Football League for the first time since 1972.
Councillor Ann Thomson, Barrow Borough Council leader, said: "This is fantastic news for the whole borough of Barrow. It gives a huge boost to the whole community.
"Barrow Borough Council would like to congratulate Ian Evatt, the players, the board, backroom staff and everyone associated with the club, for this tremendous achievement.
"The way the club has involved the whole community during what has been a historic season has been wonderful to see and has resulted in a fantastic feel-good factor. 
"The team's promotion into the Football League will also be a brilliant economic boost for the borough and the area as a whole.
"We hope that in the not too distant future, there will be a way for fans to go safely back into sports stadiums again.
"When that happens, being able to welcome visiting fans from other Football League clubs will be a huge boost to Barrow's shops, pubs, restaurants and hotels just when they need it after all they have had to endure during the recent lockdown.
"It will be a massive lift for everyone in the borough, and we look forward to being able to mark Barrow AFC's success with an appropriate celebration when restrictions are eased."
The last Barrow AFC celebrations at Barrow Town Hall took place ten years ago after home-town hero Jason Walker scored the extra-time winner which saw the Bluebirds lift the FA Trophy at Wembley with a 2-1 victory over Stevenage.
Fans lined the streets for an open top bus parade, and Barrow's players lifted the trophy on the Town Hall balcony in front of celebrating crowds.
It's uncertain yet what celebration will be able to take place to honour the team of  2019/2020 who are now looking forward to life back in the Football League.
Cllr Thomson added: "While restrictions are in place we don't know yet what form any  celebrations will take. We will have to wait until restrictions are eased.
"But as a council we will be discussing how, when that time comes, we can best mark what is a wonderful achievement of which the whole community can be proud.
"In the meantime, as a council we send our congratulations to everyone connected with Barrow AFC on what is a proud day for the club, for fans, and for the whole community."
www.delreport.com