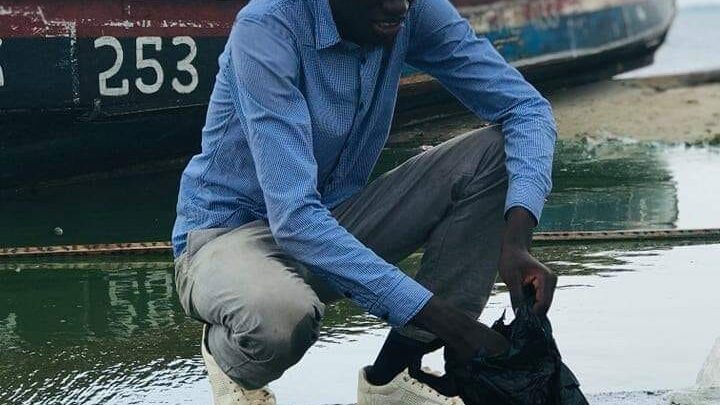 Sinan Kitagenda is a passionate wildlife biologist, writivist and a climate-change activist with Eco-Brixs, an NGO that is recycling upto 30 tonnes of plastic a month and employing over 25,000 locals in Masaka-Uganda. Sinan is currently advocating for government and multinational-companies' intervention into the plastic-pollution-crisis in Uganda. He has presented on international and national forums. He was a champion of environmental campaigns of Makerere University's Guild Council in 2019 which directly empowered over 300 students through several activities motivating them to come up with, and own practical resolutions to ensure greener safe campuses, solving hazardous waste issues and ideas contributing to climate change mitigation and indirectly about 3,650 people on social media platforms.
He deeply desires to use his skills to advocate for civic education and youth-capacity building on environmental conservation and climate-change mitigation. He will be graduating with a Bachelors degree in Conservation Biology in 2021 at the Africa's premier University.
Passion:
In Sinan's words "I am inspired by nature". Nature precisely provides all our needs. A clean environment is essential for a health living which in turn improves sustainable livelihoods. As humans, we have created a disconnection from nature, exploiting it more than it can replenish itself. This tilt will mean that we will reach a tipping point and doom ourselves to destruction. To avoid this, we must act now.
If we don't look ahead, and don't realize of the fact that we waste, destroy, our natural resources, skinning and exhausting our natural resources, we shall look down and regret for having undermined the future days of our children and denying them the very prosperity of sustainable development and a circular economy we promise them. As of today For every 30 seconds, one person dies from diseases caused by mismanaged waste in the world"

Problem:
Sinan together with his team are tackling the plastic pollution crisis in Uganda. 99% of plastics in Uganda are causing climate-change, a global Environmental-catastrophe that has been overlooked for too long BUT has put our ability to live at stake. In Uganda, Unchecked plastic waste has poisoned animals, 60% of stray cattle die of Plastic chocks every year and open burning of plastic has caused dangerous air-pollution leading to more cancer cases in young-generation. Uganda as a country is able to recycle 10% of the 600 tonnes of plastic produced every day. The economic effects of ineffective plastic-recycling system have knock-on effects, reducing recycling job potential in a developing country like Uganda yet the impacts of plastic-pollution are alarming!
Solution:
Sinan served with Makerere University's Guild Council of 2019, while his primary personal objective was to champion environmental-campaigns of the Guild-council, through the Council's Guild-Ministry for Environment and Estates to restore the campus aesthetic look and reduce disease prevalence in students as a result of waste-pollution. Together with like-minded colleagues they implemented the 'Mak-Connect initiative project.' This included both on-campus and off-campus projects in cleaning and Regreening campaigns. They planted and grew over 200 fruit-trees, picked litter in all university surrounding community surbabs every last Saturday of the Month.
In October 2019, he joined Eco-Brixs and together they are using the existing youth force in Uganda to do more advocacy and henceforth become more innovative about the Plastic pollution crisis in Uganda, through expanding more eco-clubs in schools motivating student to become eco-warriors by paying them an extra income from the plastic they collect. Through giving trash a value, they are building resilient zero waste communities through innovative approaches and solutions.
At EcoBrixs, their latest innovation has been recycling plastics to make face shields which are helping frontline workers to protect themselves against COVID-19 in Uganda. They have also reached out to over 3,000 people in the community with food supply through this pandemic period since May.
Presenter: This brother practical !! We must all work together as Africans in achieving goal 13 of the sustainable development goals !!
Source: Climate Daily Effects (C.D.F) is a social media platform that share stories and solutions to climate crisis in everyday life. C.D.F is presented to you Friday of every week by LYCA 's Climate Education Coordinator Miss. Kadiatu A. Sheriff. Climate Daily Effects is an initiative of  Liberian  Youth for Climate  Actions (LYCA)
You can share your stories and solutions to us (LYCA ) through these media: Nyanfor7077@gmail.com, lycactions@gmail.com , Whatsapp (+231776882413), Follow us on Facebook @LYCActions
www.delreport.com