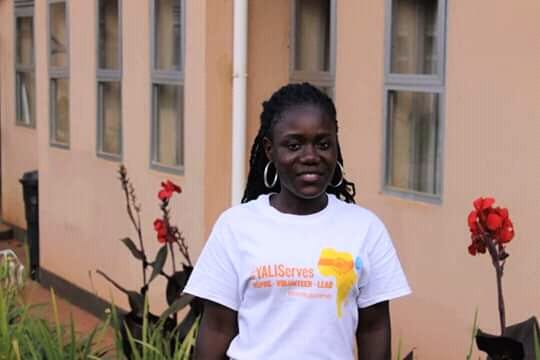 My name is Irene Nagudi, I'm an environmental scientist by profession and I'm a co-founder of two environmental conservation youth organizations i.e. Fika Afrika Advocacy Foundation and Uganda Youth Biodiversity Network- a chapter linked to the Global Youth Biodiversity Network.
I have worked with different Youth organizations on education and awareness about sustainable practices like plastics waste management, clean water advocacy and climate change through campaigns, petitions, school outreaches.
I am passionate about green spaces in communities and with this passion I managed to pursue another line in conservation that is gardening, and I am a Founder of Kichini Gardener; promoting sustainable gardening practices among school children and communities.
The problems; hunger is on a rise though, the production of food is unsustainable thus children and communities have limited idea about conservation and adverse effects of climate change resulting from their doings.

Through sustainable Gardening, we're connecting children to conservation of life in the garden and increase of green spaces within our homes and serving as role models to our communities.
Presenter: Once you discover the problem(s) and find the solution(s), only action is needed which she is doing !! I must admit, we all have to create green spaces. We must all work together as Africans in achieving goal 13 of the sustainable development goals !!
#What
's your view and practical sustainable solutions to this problem as well?
Source: Climate Daily Effects (C.D.F) is a social media platform that share stories and solutions to climate crisis in everyday life. C.D.F is presented to you Friday of every week by LYCA 's Climate Education Coordinator Miss. Kadiatu A. Sheriff. Climate Daily Effects is an initiative of  Liberian  Youth for Climate  Actions (LYCA)
You can share your stories and solutions to us (LYCA ) through these media: Nyanfor7077@gmail.com, lycactions@gmail.com , Whatsapp (+231776882413), Follow us on Facebook @LYCActions
www.delreport.com