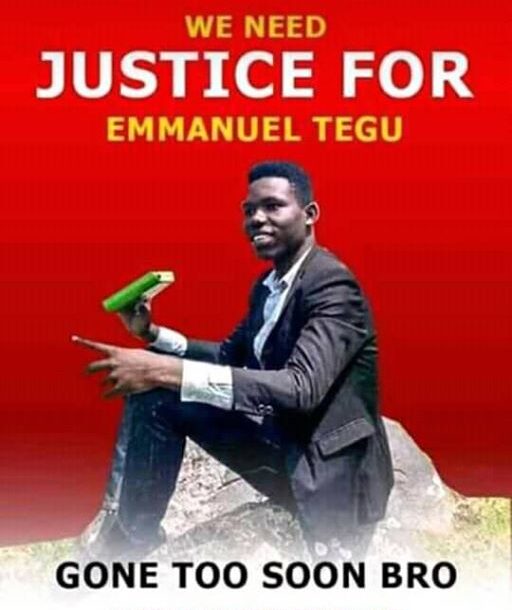 Press Statement
Fellow African youth and youth of Uganda, Kampala. Our hearts are heavy over the lost of an energetic, humbled, inspiring, God fearing, and ambitious youth and third year student pursuing BSc. Animal Production (BAP) at Makerere University, Uganda.
This unthinkable and malicious incident took place on the 4th. July 2020 morning at 2:00AM succumbing to multi organ failure at Mulago Hospital after sustaining brutal bartering by police and FLU junta goons at around 7:00PM from Makerere hill road opposite St. Augustine Chapel as the late was on his way home( Source: Amanya Trevor Facebook post, citizen of Uganda).
He narrated the brutal bartering by men in uniform himself to his mother and sister while on his hospital bed that turned into his deathbed a few hours later.
This behavior is unacceptable, unspeakable, and unprofessional by security personnel of Uganda, Kampala who allegedly killed him. 

The system should protect us not harmed us!!! "This is a drop in the ocean of the young people that are succumbing to the professionalism and abuse of uniform by people in power", said Trevor.
The Liberian Youth for Climate Actions, youths of Liberia and Uganda, along with Africa and the world are jointly calling for JUSTICE for Tegu. These alleged officers must be investigated and if guilty be apprehended by the Law. We say no to impunity!!!
With eyes full of tears and heavy heart, LYCA which to extend her condolences to the family and youths of Uganda.
WE NEED JUSTICE FOR TEGU!!!!
Source: Liberian Youth for Climate Actions, Grass Field Community, Montserrado county, Liberia.