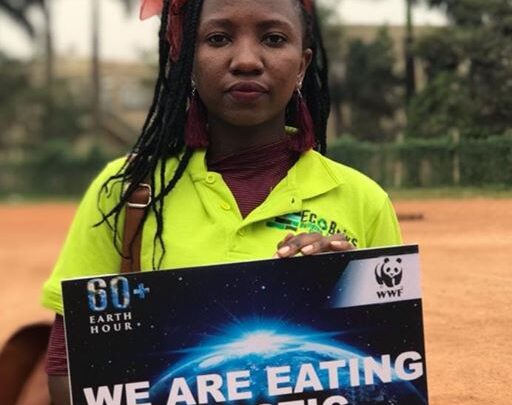 My name is Sarah Aminah Namiiro from Uganda. I'm a fourth year undergraduate student at Makerere University, Kampala Uganda. I study Conservation forestry and products technology. I am a student leader who is passionate about climate action and sustainable development. I have and still a member to several environmental movements in Uganda such as Youth Go Green for which I was the team leader in my university, Eco Brixs, Plants4Life, Global youth biodiversity Network and others.
Passion
Collectively combatting climate change with a focus on enhancing tree growing, sustainable use of resources and ending plastic pollution. I'm also passionate about the realization of the sustainable development goals (SDGs) with keen interest in Climate Action (SDG 13), Gender Equality (SDG 5) and Life of Land (SDG 15).
Problem
Climate change has affected Uganda on very many dimensions affecting our agriculture and thus economy and special groups and yet awareness and action is still not enough.
As a developing country, there is still so much room to adopt sustainable or green economies however this isn't being done yet.

Solution
As an environmental and specially a climate change *activist*, I'm doing awareness in my university and community through student associations, public campaigns, demonstrations and social media to the problems and feasible solutions such as tree planting, equality, innovation, sustainable use and behavioral change.
Plastic Pollution a major challenge in the country, being a factor in climate change, land degradation, health complications and animal deaths I also advocate for the reduce, reuse, recycle of plastic and refuse of single use plastic by mass awareness and policy advocacy. Partnering with Eco Brixs company, we are recycling plastic collected from local communities into more long term use products, removing single use plastic and spreading awareness on sustainable use of the products. The company pays for the plastic collected and increases employment in the region this improving livelihoods.
All this while advocating for tree planting and growing through the Plants4Life initiative that encourages tree planting on special life occasions like birthdays, weddings etc!
My hope is that each person wherever they are can adopt a climate smart and sensitive action such as proper waste disposal, reuse, reduced consumerism and tree planting. We'll have a better world but this we can only achieve together
Presenter: OMG!! The ending of her story touch me so dearly . I must admit. We all have a role to play as Africans in achieving goal 13 of the sustainable development goals !!
#What
's your view and practical sustainable solutions to this problem as well?
Source: Climate Daily Effects (C.D.F) is a social media platform that share stories and solutions to climate crisis in everyday life. C.D.F is presented to you Friday of every week by LYCA 's Climate Education Coordinator Miss. Kadiatu A. Sheriff. Climate Daily Effects is an initiative of  Liberian  Youth for Climate  Actions (LYCA)
You can share your stories and solutions to us (LYCA ) through these media: Nyanfor7077@gmail.com, lycactions@gmail.com , Whatsapp (+231776882413), Follow us on Facebook @LYCActions
www.delreport.com