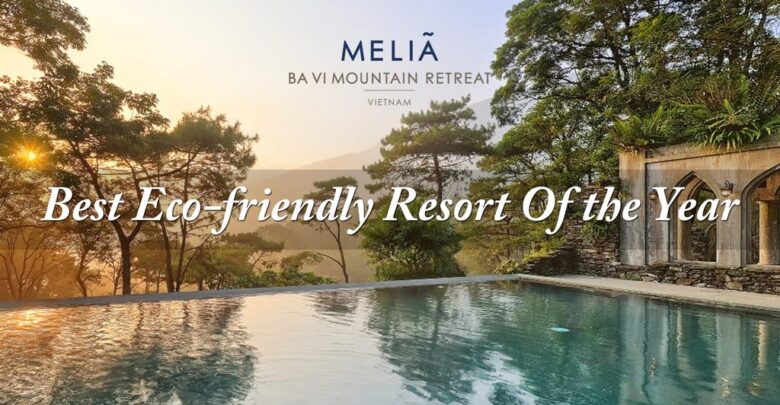 It takes just an hour and a half drive to get from Hanoi to one of the most amazing places in the world – Ba Vi National Park. Here, amidst the lush greenery of a forested mountain range, is nestled a unique resort that embodies a blend of French colonial and Vietnamese village architecture with a spirit of the pristine freshness of nature. This is a peaceful and quiet Meliá Ba Vi Mountain Retreat, a slice of paradise on earth that became the winner of Luxury Lifestyle Awards in the category of The Best Luxury Family Hotels in Hanoi, Vietnam.
Melia Ba Vi Mountain Retreat is a 5-star resort that started welcoming its guests in 2018. Located at the height of 600m and surrounded by primitive rainforest, this ecotourism destination offers spectacular panoramic views and perfect opportunities for rest and relaxation. Every detail of this resort is designed for restoring the guests' wellbeing and awakening their senses.
Melia Ba Vi Mountain Retreat features 55 diverse and spacious rooms, each of which has a mini-bar, air conditioning, a coffee maker, and a garden terrace or balcony allowing to enjoy the stunning gardens and mountain scenery. The calming rooms' interior with wooden flooring and furnishings is designed to harmonize with nature and the environment. The guests can choose from the entry-level deluxe to suites and larger three and five-bedroom villas.
The resort's guests are welcome to enjoy the delicious experience at the Senses and Tonkin restaurants or savor the mountain views while sipping a special cocktail at 1902 Lobby Lounge. And the purifying and relaxing space of YHI SPA is at the service of the guests to help them reach the complete wellbeing.
"On behalf of the team of Melia Ba Vi Mountain Retreat, I thank the committee of Luxury Lifestyle Awards for recognizing us as one of the best luxury hotels in Hanoi. We are pleased and happy to show our hospitality to the discerning guests from around the world," said Noemi Perez, General Manager.
The guests of Melia Ba Vi Mountain Retreat have the exciting opportunity to explore the cultural mix of the local ethnic groups with their specific languages, rituals, and costumes. Every day they have a great diversity of activities to choose, including swimming in a four-season infinity pool, camping, biking, and mountain trekking tours.
About Luxury Lifestyle Awards
Luxury Lifestyle Awards is a global award selecting, recognizing, celebrating and promoting the best luxury goods and services all over the world.
The goal of the company is to connect people with the best of luxury. LLA has evaluated more than 10 000 various goods and services in 400 categories from 60 countries and analyzed the results to give you a TOP list of the best of the best in the world. Such world-renowned brands as Chanel, Dom Perignon, and Ferrari were proudly named winners. The victory brings companies status and recognition, global promotion and exposure to an entirely new market of customers.
For more information, please visit: https://luxurylifestyleawards.com/
Like us on Facebook: https://www.facebook.com/LuxuryLifestyleAwards/
Join us on Instagram: https://www.instagram.com/luxurylifestyleawards/