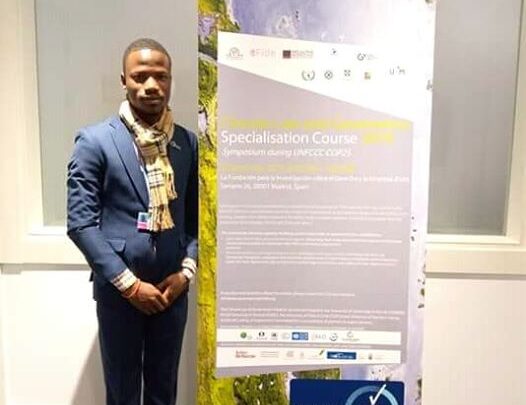 Teddy P. Taylor is a young Liberian climate activist. In 2016, he joined over 200 young people across West Africa to attend the YALI Regional leadership center in Accra, Ghana. Teddy served as research consultant for Songhai Advisory, LLP, a business intelligence consultancy providing critical insight on market opportunities in Sub -Sahara Africa.
In November 2015, 2017, and 2019, he was selected as a member of the Liberian Government delegation to the Paris Climate Change conference also refer to as the Twenty first conference of the parties (COP 21), Twenty third conference of the parties (COP 23) and Twenty fifth conference of the parties (COP 25) held in Paris, France, Bonn, Germany, and Spain respectively.
Teddy passion for Climate Activism grown in 2015 when he joined some passionate Liberian youths in establishing Liberia first youth lead climate movement called Youth Climate Initiative (YCCI) geared towards ensuring that young people take actions in addressing Climate change issues by their inclusion, and active participation at all climate change discussions and negotiations.

He discovered that youths were not given the space, knowledge, and access to information in addressing climate change issues. He takes this problem so serious that when given the chance at meetings, fora, conferences it's discussed. Youth inclusion is his key problem to be solved by him.
Based on his passion to include youth in decision making processes , access to information, and voice to express themselves which he speaks off at every given opportunities, has given him the privilege to be selected as the youngest National Focal Point for the Action for Climate Empowerment (ACE) at the Environmental Protection Agency of Liberia.
Action for Climate Empowerment (ACE) is a term adopted by the United Nations Framework Convention on Climate Change (UNFCCC). It refers to Article 6 of the convention 's original text (1992), focusing on six priority areas: education, training, public awareness, public participation, public access to information, and international cooperation of these issues.
Teddy P. Taylor given the position has decided to use it in solving complex challenges presented by climate change.
Presenter: Youth seat at United Nations Framework Convention on Climate Change. It's a seat for young people. We look forward to working with you Teddy P Taylor. We all have a role to play as Africans in achieving goal 13 of the sustainable development goals !!
#What
's your view and practical sustainable solutions to this problem as well?
Source: Climate Daily Effects (C.D.F) is a social media platform that share stories and solutions to climate crisis in everyday life. C.D.F is presented to you Friday of every week by LYCA 's Climate Education Coordinator Miss. Kadiatu A. Sheriff. Climate Daily Effects is an initiative of  Liberian  Youth for Climate  Actions (LYCA)
You can share your stories and solutions to us (LYCA ) through these media: Nyanfor7077@gmail.com, lycactions@gmail.com , Whatsapp (+231776882413), Follow us on Facebook @LYCActions
www.delreport.com