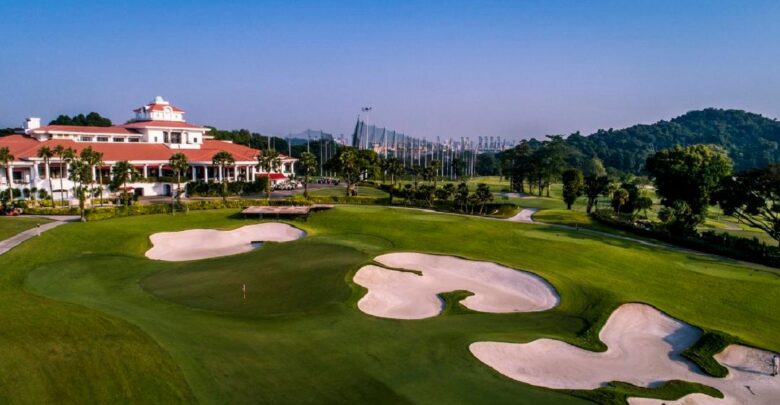 -Singapore-based club joins prestigious list of sports associations, events, clubs and leagues from around the world in commitment to climate action-
( Sentosa Golf Club in Singapore is set to make history today by becoming the world's first golf club to join the United Nation's Sports for Climate Action Initiative.
The prestigious golf venue, set on Sentosa Island alongside a diverse array of unique leisure experiences, is already highly regarded for its approach to environmental sustainability, and takes this significant step following its collaboration with international sustainable golf non-profit, GEO Foundation.
The UN's Sports for Climate Action Initiative aims to support and guide sports organisations and their communities on a path to achieving the global climate goals set out by world leaders in the Paris Agreement.
The golf club will add its name to an already impressive list of sporting organisations to have joined including the New York Yankees, La Liga, Sky Sports and the All England Lawn Tennis Club (Wimbledon).
Sentosa Golf Club, currently holding the accolade of World's Best Golf Club (World Golf Awards), will join these other participants in committing to a set of five agreed principles and incorporating them into their club strategy, policies, and procedures, as well as communicating them to their wider sporting community within Singapore and other golf clubs around the world.
The initiative also provides sports organisations with a forum to pursue climate action in a consistent and supportive manner by learning from one another, disseminating good practices, lessons learned, developing new innovations, and collaborating on areas of mutual interest.
It also aims to pursue efforts to limit the temperature increase well below 2 degrees Celsius, as well as strengthening the ability of countries to deal with the impacts of climate change.
Andrew Johnston, General Manager & Director of Agronomy at Sentosa Golf Club, said: "Becoming the first ever golf club to join the UN's Sports for Climate Action Initiative is a tremendous honour for everyone associated with Sentosa Golf Club. We have already taken great strides with our sustainability programme in the last two years and are therefore extremely excited to be joining this initiative. We believe it is the right step for us as a club to continue on our journey to tackle climate change throughout the world and the game of golf."
Sentosa Golf Club also recently announced a new partnership with GEO Foundation, an international non-profit which aims to inspire, support, recognise and share sustainability across golf.  Through this collaboration, Sentosa Golf Club's future sustainability work will be guided and supported by GEO's sustainable golf agenda; tracked and evaluated using the industry leading OnCourse® program; verified and assured through the GEO Certified® label.  It is also anticipated that GEO will help guide and accelerate sustainability action in relation to Sentosa Golf Club's course renovations and the hosting of the SMBC Singapore Open.
Jonathan Smith, Founder and Executive Director of GEO Foundation, said: "This announcement underlines the strength of Sentosa's forward-looking commitment to sustainability and climate action.  We congratulate them on taking this important and ambitious leadership step, and look forward to supporting that commitment with the purpose-built tools, analysis and recognition that we provide to golf.  Of course, we'd encourage other facilities interested in building sustainability and climate action into their operations to consider joining OnCourse® – as a practical first step to understanding current performance, guiding future efforts and establishing their position in the growing community of sustainable golf."
Sentosa Golf Club's green commitment was brought to the world's attention with the launch of its #KeepItGreen campaign at the SMBC Singapore Open in January 2018. It has seen a number of key environmental features implemented at the club, such as the creation of its own bee colonies; using rechargeable lithium batteries in its golf carts; banning single use plastics from the golf course and replacing them with water stations; as well as building its own sustainable herb garden.
In January 2020, the club unveiled a new sustainability campaign, GAME ON, at the SMBC Singapore Open, that is designed to unite the global golf community in addressing the growing concerns of climate change. It aims to help golf clubs around the world to better prepare for climate change by introducing modern sustainability practices to reduce their own environmental footprint.
The campaign is closely aligned with The R&A's 2030 Golf Course Initiative that considers the impacts, both positive and negative, of the changing climate, resource constraints and regulation on course condition and playability.
The R&A's Asian headquarters is based at Sentosa Golf Club and they too are pushing an important sustainability agenda. Dominic Wall, Director – Asia-Pacific at The R&A, said: "We consider sustainability to be an important priority for golf and is crucial to the sport's contribution to society, including its impact on the environment and use of resources.
"Our own Golf Course 2030 initiative aims to produce a roadmap that will outline steps to mitigate the challenges created by climate change, as well as taking advantage of the opportunities that exist to provide improved on-course conditions and playability for golfers around the world."
ABOUT THE SPORTS FOR CLIMATE ACTION INITIATIVE:
The Sports for Climate Action initiative calls on sporting organizations to acknowledge the contribution of the sports sector to climate change and our responsibility to strive towards climate neutrality for a safer planet.
Through collective action and bold leadership, sport has the power to make this fast and drastic transformation. By signing the Framework, signatories demonstrate a commitment to playing their part to ensure the sports sector is on the path to a low-carbon future.
In line with the five core principles enshrined in the Framework and the aims of the Paris Agreement, all signatories will strive to:
1) promote greater environmental responsibility;
2) reduce the overall climate impact from sports;
3) use the platform to educate for climate action;
4) promote sustainable and responsible consumption; and
5) advocate for climate action through communications.
ABOUT SENTOSA GOLF CLUB:
Sentosa Golf Club is one of the most established golf clubs in Asia. Set on Sentosa Island, with a breathtaking backdrop of Singapore's iconic cityscape, the club regularly receives world-class accolades and is enjoyed by 1,500 distinguished members. Sentosa is currently ranked 59th 'Top 100 World's Greatest Golf Courses' by Golf Digest, 'Top 100 in the World' by Platinum Clubs of the World, whilst both its courses occupy the top two places in Golf Digest's latest biennial rankings for 'Singapore's Best Courses'. The club is home to two championship ready courses – The Serapong and The New Tanjong – which are among the most challenging yet exciting golf courses in the region. As well as its thriving reputation, the club has played host to several high-profile professional events, including the SMBC Singapore Open on a record 11 occasions, where many of the sport's biggest names compete on the Serapong Course for one of Asia's biggest prize funds. The club is also home to the HSBC Women's World Championship, a marquee LPGA Tour event that has been dubbed as 'Asia's Major'. Offering more than a memorable golfing experience, the club has excellent meeting and banquet facilities for corporate networking, as well as high-end dining options. Between 2018 and 2019 Sentosa hosted six globally televised golf events, a feat unmatched by any other club in the world. In 2019 the club received two of Singapore's high-profile sustainability awards, the RHT Environmental Sustainability Game Changer and Sustainability Innovator, and was voted 'Singapore's Best Golf Course' and the 'World's Best Golf Club' at the World Golf Awards. Sentosa currently holds no fewer than six Asian Golf Awards, including 'Best Managed Golf Club in Asia Pacific', 'Best Maintained Course in Asia Pacific' and 'Best Championship Course in Asia Pacific'.
ABOUT GEO FOUNDATION:
GEO Foundation is the international not-for-profit dedicated to advancing sustainability in and through golf. Its goal is to work collaboratively to help the sport embrace environmental and social issues and become widely acclaimed for its role in fostering nature, conserving resources, building healthy communities and taking climate action. GEO assures the OnCourse® programmes for grassroots golf facilities, new developments and tournaments, each of which can lead to the internationally accredited, endorsed and independently verified GEO Certified® label.