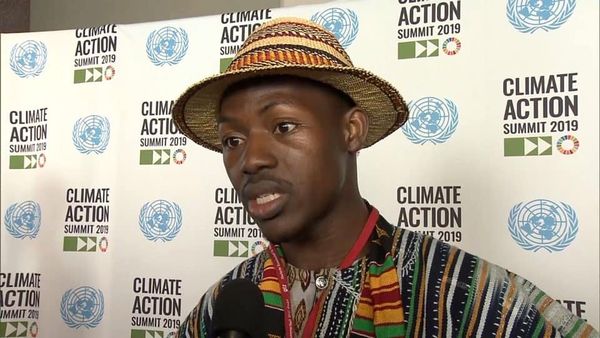 Desmond Alugnoa is a social entrepreneur and an advocate for community empowerment. His work started in 2012 and has helped build the capacities of youth both in cities and in rural communities of Ghana to take meaningful actions at different levels of the environment.
Growing up in one of the poorest parts of Ghana and in a community that is battling with desertification, Desmond developed a strong passion for decentralization of development policies and focused his work on " Rural Innovation " aimed at promoting the growth of local economies in Africa.
Desmond identified two major problems as a youth student; improper solid waste management is the root caused of perennial floods in Ghanaian cities and the wide spread of sanitation related sicknesses and that youth in rural communities in Ghana have been sandwiched between this poor sanitation and economic hardships with limited opportunities to test their creativity and talent.
Desmond Alugnoa then co-founded the Green Africa Youth Organization(GAYO) to create jobs for women and youth in Ghana by recycling plastic wastes into rain coats, shopping bags and other valuable products and producing compost from degradable waste to support communities.
The initiative, called the Sustainable Communities Project has created jobs for many women and youth and empowered several community dwellers to act responsibly in generating, handling and disposing waste. Sustainability education is also given to communities as part of the project to create awareness on Climate Change, empower rural communities to contribute to policies and create skilful youth to take up entrepreneurship opportunities.
Source: Climate Daily Effects (C.D.F) is a social media platform that share stories and solutions to climate crisis in everyday life. C.D.F is presented to you Friday of every week by LYCA 's Climate Education Coordinator Miss. Kadiatu A. Sheriff. Climate Daily Effects is an initiative of  Liberian  Youth for Climate  Actions (LYCA)
You can share your stories and solutions to us (LYCA ) through these media: Nyanfor7077@gmail.com, lycactions@gmail.com , Whatsapp (+231776882413), Follow us on Facebook @LYCActions
www.delreport.com