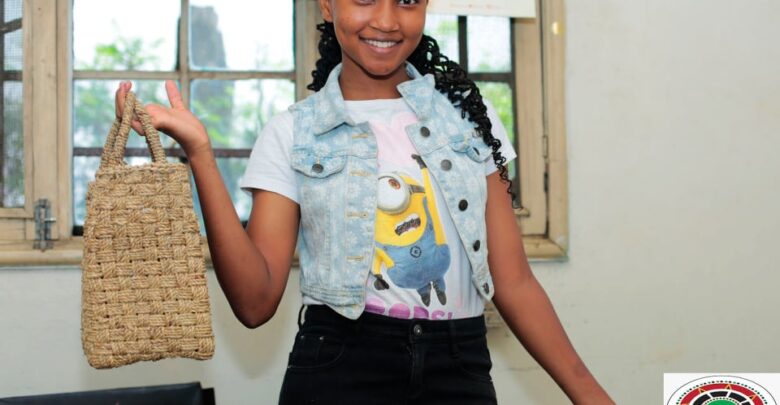 Rahmina Paulette is a 15 years old young environmentalist, climate change ambassador, and professional model from Kisumu, Kenya. She's first born in a family of two children with her beloved mother Miriam Oyugi.
Rahimna sat for her Kenya Certificate of Primary Education (KCPE) at the M.A  Junior Academy last year and scored 356 marks. She then joined Kisumu Senior School this year for her Post Primary education. With schools closed due to the Corona virus pandemic she is engaged with online learning to keep her sharp until schools reopen.
The young girl has won many awards since 2016. Little Miss Kenya Kisumu county, 2016, Green Kids Award, 2018, Environmental Ambassador Ambassador Kisumu county, 2018, Eco Warrior Tourism Change Maker Award, 2019 among a host of others.
PASSION
Her love for environmental sustainability is very strong as we wish to become an environmental activist in the future. She care and love Lake Victoria so much. She believes that we should live in a world where we can enforce environmental sustainability and a greener environment.

PROBLEM
Lake Victoria continue to be doted with water hyacinth; the weed hampering free flow of movement in the fresh water body.
This is the situation Rahmina Paulette faced in 2016 when she decided to take a boat ride on the Lake. Accompanied with her mother, they could not go further into the Lake, thanks to the hyacinth.
"One day I went to the Lake with my mum. All over a sudden, the water hyacinth blocked us from moving with the boss". She said to Climate Daily Effects ( C.D.E) host Miss Kadiatu  A. Sheriff during an interview .
There and then , she started thinking of how to help reduce the green weed in Lake Victoria.
SOLUTION
" I just did some little research and found out that the hyacinth can be recycled " said the  15-year-old girl.
She then got mentors who impacted her with knowledge of recycling water hyacinth into beautiful products such as cards and bags; and she has never looked back.
The process began by sending someone, mostly a motorbike rider or a boat rider to collect the hyacinth from the Lake, at the cost of between Sh300 to Sh1,500.
" I soak waste paper – mostly old newspapers brought in by my friends under Team Rahmina, for three days. I then chop the water hyacinth into pieces and soak. This is followed by pounding of the chopped hyacinth and wash papers. I then mix using glue, and put in water. I filter to get the mixture and then dry in the sun" said the young environmentalist told C.D.E.
The dying is conducted during the day, before she sits down to make cards and bags in the evening. She said a card goes for Sh150 with with most of the orders coming from abroad.
Source: Climate Daily Effects (C.D.F) is a social media platform that share stories and solutions to climate crisis in everyday life. C.D.F is presented to you Friday of every week by LYCA 's Climate Education Coordinator Miss. Kadiatu A. Sheriff. Climate Daily Effects is an initiative of  Liberian  Youth for Climate  Actions (LYCA)
You can share your stories and solutions to us (LYCA ) through these media: Nyanfor7077@gmail.com, lycactions@gmail.com , Whatsapp (+231776882413), Follow us on Facebook @LYCActions
www.delreport.com