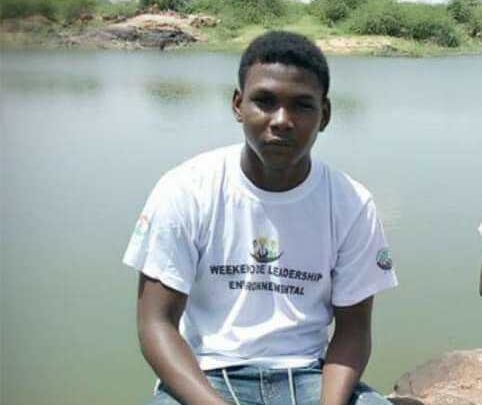 My name is Habibou, a 23-year-old environmentalist from Niger and an ambassador for climate change and a member of the Youth Volunteer for the Environment as well. I obtained my primary education certificate from Niger in 2010 and then joined the general education college (CEG 1) of Niamey from where I met the young volunteers for the environment who understand climate change, the impacts, and especially the solutions to be provided given the geographical location of my country (3/4 of which is desert). It was imperative to get involved as a young person in the protection of the environment.
I did planting training, participated in youth forums on climate change organize in my region, was president of a green club for 3 years in my school in 2016. I had the honor of representing my country at the conference of the parties (cop 22) in Marrakech in Morocco from where I had to work with the Research Institute for Sustainable Development (IRD France) which I learned a lot in the field of research. I am currently in their science club.
My love for environmental sustainability is very strong as I want to become an environmental activist in the future. My concern is first of all the rapid advance of the dessert and the silting up of the river. I think that Niger and all the countries of the world must live in a world where we can guarantee environmental sustainability and a greener environment.
The silting up of the river means that it is threatened with disappearance and the negative climate change pushes the desert forward.This is the situation the whole population is facing and it creates floods and a lot of immigration.
At COP22 I knew that there are methods of adaptation and mitigation and I am committed to protecting the environment. That's why I would continue to advocate with the government to first silting up the river and sensitizing the population for more tree planting and land reclamation for more green space and above all the promotion of renewable energy. I also decided to plant 10 trees and maintain them at each festival of the tree of our country (every August 3).

Source: Climate Daily Effects (C.D.F) is a social media platform that share stories and solutions to climate crisis in everyday life. C.D.F is presented to you Friday of every week by LYCA 's Climate Education Coordinator Miss. Kadiatu A. Sheriff. Climate Daily Effects is an initiative of  Liberian  Youth for Climate  Actions (LYCA)
You can share your stories and solutions to us (LYCA ) through these media: Nyanfor7077@gmail.com, lycactions@gmail.com , Whatsapp (+231776882413), Follow us on Facebook @LYCActions
www.delreport.com