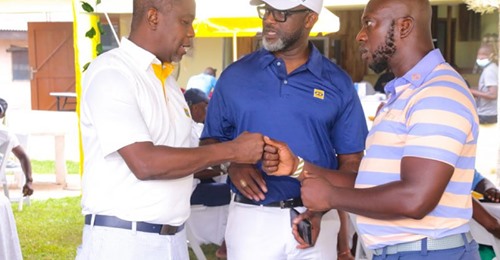 By James K. Attaglo Wilson
Mr. Sam Koranteng [Corporate Services Executive of MTN Ghana] has revealed that the MTN Ghana Foundation has supported government's fight against the COVID-19 pandemic with GHS5 million.
The Corporate Services Executive made this known in his speech delivered to the press at the MTN Invitational Golf Tournament held at the Celebrity Golf Club in Sakumono last Saturday.
Mr. Koranteng noted that the MTN Ghana Foundation has provided GHS5 million worth of PPE, medical suppliers and other essential items for first responders across the country.
Beside the GHS5 million, he further reiterated other important interventions that his outfit is providing such as;
a. Providing their platforms [Caller tunes, SMS, etc] to create awareness and educate the citizenry on the need to adhere to the coronavirus protocols.
b. Zero rating well over 200 educational websites to facilitates e-learning activities of students at homes.

c. Significant investment in the network to ensure adequate resilience and optimum performance to support work from home [the new normal] plans by organizations and individuals who had to rely on that innovation to stay safe.
Established in 2007, the MTN Ghana Foundation is a single purpose vehicle that drive all MTN's CSR initiatives in the country. The Foundation currently has three focus areas – Health, Education and Economic Empowerment.
The Foundation is set up as a separate legal entity with its own independent Board of Directors and Patrons who oversee the operations of the Foundation. Its commitment is centered around the socio-economic development of the country through the roll-out of appropriate and sustainable social interventions in communities all over the country.
The main aim of the Foundation is to have a broad community impacting and supporting national and international development priorities. It facilitates partnership and sharing of resources to achieve mutual objectives.
Source:sports24ghana.com