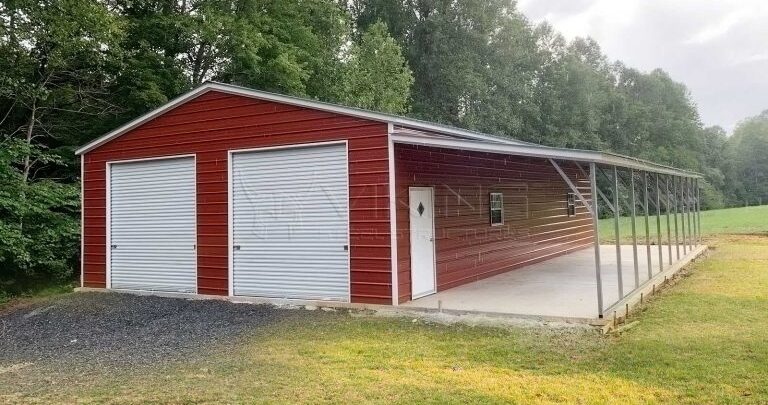 By Chris E
Homeowners are always alert for extreme weather conditions such as flooding, severe rain, excess heat, snowfall, hailstorms, and intense coastal surges. So, they always consider investing into a budget-friendly construction project that can withstand in the harsh-weather conditions. 
The latest construction methods have facilitated the metal building industry with superior build structure quality and strength. But, do you think they have made these steel buildings strong enough to withstand natural calamities?
Technology has evolved substantially; still, we have no control over nature when it comes to Mother Nature. Several natural disasters rampage different countries of the world. You should be prepared to tackle the brutal side of nature. So, suppose you are planning to install a metal structure. In that case, you should prepare a complete plan for steel building installation that can protect you and your assets during harsh weather conditions like hurricanes, blizzards, downpours, etc.
It's evident that our technology has no control over the natural phenomenon, but technology can help you build the steel structure to safeguard you against adverse weather.
Let's check out how you can construct a building that can survive natural adversity.
Know Your Local Weather & Building Codes
 You should know about your region's weather conditions and how worse it can get. Furthermore, go through your local building codes, so you don't violate any guidelines and can quickly get a permit. Do proper research for your areas' wind and snow load rating, so you can ensure strength and other characteristics of your structure to handle things. It's beneficial to follow local building codes because guidelines tell you the structural standards you have to match. Know your local weather and building codes to choose the right & resources and construct buildings that can withstand all worst weather.
Inspect Your Construction Site
A strong base is a mandatory thing for a robust structure. The land you will use for construction should have enough capabilities to bear structure load and don't degrade with time. The inspection of soil includes groundwater level and water samples' study to know the strength and compressibility of soil.
You can also self-audit your property if you have relevant experience or hire a professional to inspect the land. An expert might tell you something that can be a threat in the future, and you can deter the issue by resolving the problem now. Moreover, various points' elevation should be uniform to assure maximum structural strength and even building load distribution. Hence, prepare a site which provides a sturdy base to your structure.
Pour a Resilient Foundation
There are different foundation types available that you can choose based on your location, weather conditions, building-types, and functionality. A metal structure is installed on the foundation, and your building can't make it through if the foundation isn't up to mark. Some pour processes to strengthen the load-bearing capacity of the foundation. In these, you should make sure the concrete and water mixture is adequate because an improper proportion of components lead to a low foundation setting. So, get a professional to do the foundation job correctly and above standards.
Furthermore, concrete setting time is also an essential factor in providing full strength. So, let your foundation dry properly or use curing compounds to unlock the foundation's full strength.
Get All-Weather Design
Design is a crucial factor in making your structure withstands harsh weather conditions. Effective building design can divert and distribute pressure on a building during extreme conditions. So, along with aesthetics, you should consider roof-styles & design factors that can support your structure to stand firm during cyclones. There are some all-weather steel buildings, which are designed to face extreme snowfall and winds. Hence, make a balance of aesthetics and weather factors while creating your structure.
Choose the Most Reliable Modern Building Material
There are various construction materials offered by metal building dealers & manufacturers, but you should choose one which can guard you against extreme weather conditions effectively. Pre-engineered metal buildings are modular buildings that fulfill today's people's needs and overcome traditional buildings' limitations. Steel has maximum strength and durability than any other construction material and can promise the best protection to you and your belongings.
Furthermore, metal structures are cost-effective, time-efficient, and potable, which is impossible with any other alternatives. Hence, buy metal buildings to get the best protection against cruel natural calamities.
Above are some important factors that can help you build metal structures that can withstand extreme weather conditions. Always consider these significant aspects and buy a safe & highly durable steel structure.  vikingsteelstructures.com