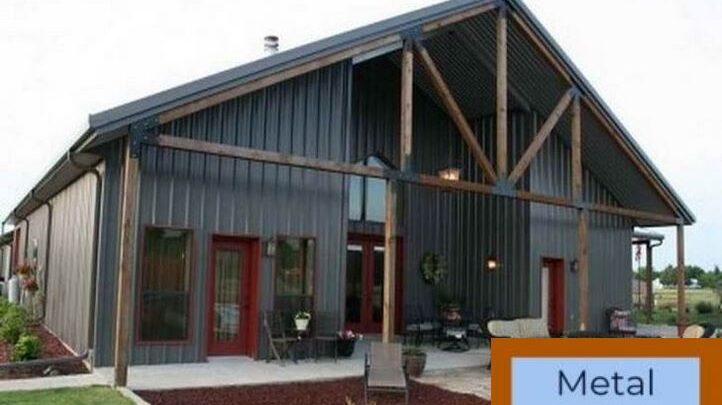 By Tony A
Everyone loves a brand new metal building that keeps shining for long without any stains, damages, or cracks.
However, not everyone can keep their metal building fresh as it loses its charm with time. Regular weather elements like hailstorms, thunderstorms, high winds, seismic waves, etc., directly affect your steel building and develop troubles. That's the primary reason why most metal buildings lose their strength and charm with time.
However, with some tips, you can keep them alive for decades without compromising their strength and beauty.
Check Your Building Half-Yearly: Do a routine inspection of your building if you want your metal structure to stand still for long. Remember, small and initial building issues can be resolved with regular checks. However, skipping regular checkups enlarges the problem and starts deteriorating your structure. Catching issues early saves you money and time.
Setup a routine to inspect the structure. Hire metal building specialists if you are unable to do it yourself.
Clean Dirt, Chalk, and Mildew: According to the fact, painted metal buildings are prone to the greasy residue and airborne dirt, which aren't easily washed away by the water. Mildew, mold, or other growth can be a problem in areas of the building that remain wet for long periods of time.
Manage Precipitation: Excessive snow or rain on or around your steel building directly affects the building foundation and hence results in a short lifespan. If water accumulates around your metal garage or other custom steel building, moisture can cause rust or possibly shift the foundation. Adding gutters and overhangs are great ways to direct the water away from the building.
Do Regular Insulation Inspection: Always check your insulation and make sure it is not exposed to air and is not compromised in either way. Air exposure of your insulation enhances the risk of water damage. Contaminated or wet insulation has a low capability to protect your structure adequately.
Furthermore, wet insulation is susceptible to mold and rust. Ensure that insulation is free from birds, pests, or other critters who can damage your insulation and take advantage of any vulnerable, exposed areas. Treat unprotected insulation immediately. The longer it is left unrepaired, the greater the chance that the problem will spread.
Clean Large Areas Quickly: Regular washing of your building increases its lifespan. Spray your metal building with a power washer to clean large areas quickly. Power washer is also effective in the removal of stuck-on mold, mildew, and chalk.
You can use phosphate-free laundry detergent, household bleach, household bleach, liquid dishwashing detergent, household bleach, or household ammonia alongside the power water jet. However, before using any of them, it's highly recommended to check each cleaner's directions for precise usage instructions.
Clean Gutters and Drains: Check if water gets stuck and sits too long on the gutters. Clogged gutters develop rust and mold. Regularly clean your gutters of any debris manually. Remove any blockages or employ a power washer if you have a huge obstruction to deal with.
Oil/ Replace Hinges and Seals [If Required]: Give door hinges a bit of oil If any doors seem to be a little creaky or sticky. Replace the hinges, nuts, or bolts if they are rusted or corroded.
NOTE: Nothing should be leaking or showing signs of rust or mold.
Broken seals can cause high power bills; hence you should repair/replace the seals to save money.
Check Garage Doors for Damages/Leakage: Roll up garage door offers hassle-free in/out passage to your building. However, incorrect installation or with time, the garage doors let water into your building. Always ensure the seal at the bottom of your door meets the floor perfectly.
For metal building owners installing their building at the bottom of a hill, make sure you have put a heavy-duty drain at that side. Else, water will flood under your garage door, even if the seal remains firm. Still, water at the side of the building will also pose trouble for its base. Consult with a metal building expert to arrange for the best drain and garage door weather stripping seal.
Replace Rusted Fasteners: When the fasteners are exposed to water and oxygen, they start to rust and deteriorate–rendering them ineffective at holding panels together. Replace rusted fasteners immediately to uphold the structural integrity of the building. Temperature fluctuations can also loosen these parts, so use a screwdriver to secure them in place.
Inspect Metal Buildings After Storms: Inspect your metal structure for wind or hail damage and look for leaks or standing water that could harm your property. Finding and fixing minor damage early prevents bigger problems over time. Heavy snowfall, high winds, and other weather elements affect its base and loosen its bolts. Hence you should check your building from every aspect and make appropriate repairs.
Don't Let snow reside on Your Roof: Snow is deceptively problematic for your metal building. Substantial snow creates significant stress on your structure. If you feel that the snowfall collected on your roof is above your roof's allowable snow level, take action to remove it.
Do not scrape off the snow all the way to the metal panels. Leave a couple of inches on the roof. Should your shovel touch the metal panels, you may scrape or otherwise damage them.
Organization Makes Cleaning Metal Buildings Easier: Keep the possessions organized and get rid of unused items to save time when you're ready to wipe down or power spray your structure.
Apply Paint on Open Areas: Whether the paint is scratched on a steel panel or it gets dull with time, you require repainting to avoid water damage, rust, or mold. Contact your metal building dealer to find out which paint you need to do the touch-ups. Once you have the proper paint, start with a layer of primer. After the primer dried and you have applied the paint, keep the area clear of any hedges, tools, or other debris that might disrupt the drying process.
Utilize Space Properly
Remove all unnecessary things from the garage and free up space for easy parking and storage of your vehicles and other equipment. For top strength and supreme quality you are always recommended to order vertical roof metal buildings.
The maintenance of steel building structures is vital to ensuring their functionality. Basic upkeep represents your best line of defense against any possible injury resulting from neglectful steel structure maintenance. Protect your building and minimize your liability by instilling basic maintenance habits into your life.