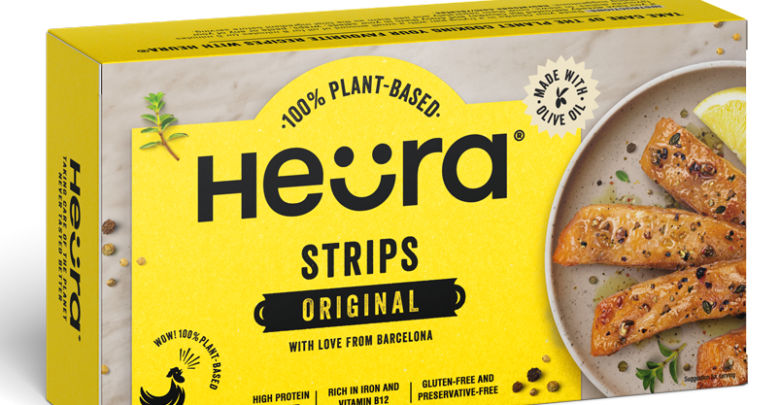 This Christmas, travelling will be possible – at least from our tables, thanks to the multicultural recipe book designed by Heura, Europe's fastest growing plant-based meat company. The United Kingdom, Mexico, Italy, Singapore, and of course, Spain are just a few of the places you can visit by tasting the flavours of Heura. Eight delicious holiday staples (Escudella, Confit with Port wine reduction, Tortellini in Brodo, Roasted, Birria, Wellington, Cannelloni and Claypot rice) will help you take care of your family's health, our planet, and animal welfare, while enjoying the Mediterranean gastronomic traditions that Spain is known for.
The cookbook was created in response to the growing demand for vegan Christmas options both domestically and abroad. Leading retailer Waitrose says that pre-orders of vegan Christmas foods are up by 700% compared with last year, and an astounding 26% of all Britons intend to eat more plant-based food this holiday season. This cookbook intends to give consumers alternatives to the Christmas meat heavy traditions of Turkey, sausages, and pigs in blankets as the traditional staples on Christmas tables across the UK.
Marc Coloma, CEO and Co-Founder of Heura, said:
"This cookbook is our way to support those consumers who are seeking out healthy, sustainable dining options this holiday season. It's intended to help people celebrate Christmas with easy, tasty recipes that are good for you and good for our planet".
Each recipe is designed to have a lower environmental footprint than its original counterpart, with dishes like Heura Wellington saving 12,315 litres of water, 45 kg of CO2 emissions, 244 m2 of land surface and 18 kilos of cereals as compared to traditional Beef Wellington.
The full recipe book is free for download here. 
About Heura
Heura is a plant-based startup born in Barcelona to bring solutions that will leave the current food system obsolete and accelerate the shift to a world where the animals are out of the meat production equation. Their Mediterranean culinary heritage is reflected on their products: short label, high nutritional values and taste. Founded by the food activists Marc Coloma and Bernat Añaños, Heura started in April 2017. Its products are present in 3,000 outlets in Spain, Andorra, Portugal, France, the Netherlands, Singapore, Hong Kong, Chile and the United Kingdom.