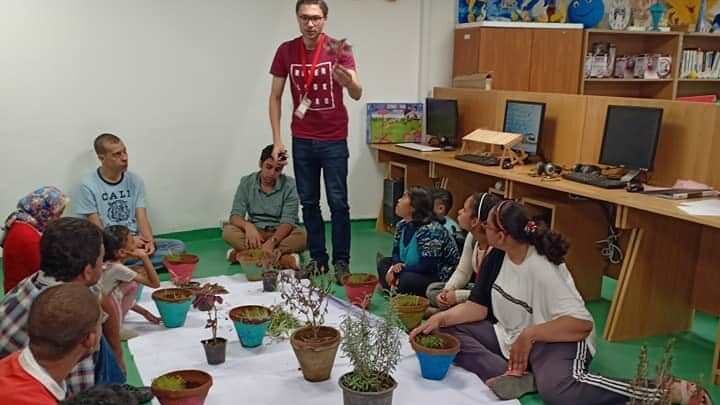 Hello green leaders, I'm so happy and proud to share with you my story. My name is Ibrahim Bahnasy Abdelhamid form Egypt. I'm a horticulturist, graduated from faculty of Agriculture and environmental co-founder. I have participated in several events, conferences, lectures, workshops for social enterprises and initiatives in all branches of Environment during my bachelor till now.
PASSION
Before going to college, I was interested in climate change as this crisis and its related issues have been on my mind for years  until it induced me to do something  in reality which could help and solve such issues. With time, the growth of interest and passion has pushed me to care more and more, earn some knowledge, make ideas about how to overcome defects and improve many systems around us. Utilizing and doing this practically has granted me satisfaction and has created many dreams in my imagination. One of them is to going back to nature and establishing many plantations across Africa, our glorious continent…  I'm seeking to contribute in environment protection and nature conservation as much as possible. Spending time and effort in things like these has brought me happiness and inspiration from magical wonders of nature and its magnificent beauty. It really has a great impact in my life.

PROBLEM
Damages and sabotages about nature destructions and similar actions done by humans, which led to an imbalance in the ecosystem, loss of biodiversity and climate change.
SOLUTION
I have recently made a networking group on Facebook in cooperation with some friends. It is called G.P.E which collect, share and disseminate all possible Environmental publications, essays, news, projects, events, conferences, workshops, internships, scholarships and similar opportunities in order to create a strong community that has the same interest towards the environment and its ability to apply together significant actions and solutions by any methods for the sake of environment and nature conservation. https://www.facebook.com/groups/350673165704719 .
Now, I'm a co-founder of an initiative called Orgoooo for awareness of environmental culture and issues present in our society by making sessions and workshops about environment and cultivation(the role of plants here is the solution for environment protection) specially for children (as they are the future generation) to teach them about the environment and providing simple basics about protecting it. So giving them the space to implement such activities on their own and leaving an impact on their lives. https://www.facebook.com/Orgoooo-226849764925285 .
Ibrahim Bahnasy Abdelhamid
You can contact me through:
E-mail: Ibrahim.mohameed0000@gmail.com
Facebook: Ibrahim Mohamed
WhatsApp: +201274422070
Source: Climate Daily Effects (C.D.F) is a social media platform that share stories and solutions to climate crisis in everyday life. C.D.F is presented to you Friday of every week by LYCA 's Climate Education Coordinator Miss. Kadiatu A. Sheriff. Climate Daily Effects is an initiative of  Liberian  Youth for Climate  Actions (LYCA)
You can share your stories and solutions to us (LYCA ) through these media: Nyanfor7077@gmail.com, lycactions@gmail.com , Whatsapp (+231776882413), Follow us on Facebook @LYCActions
www.delreport.com