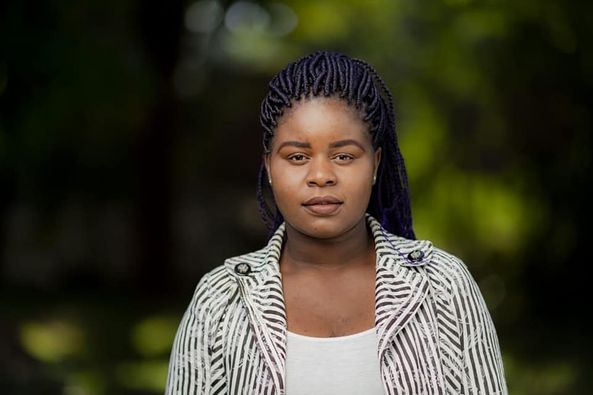 Brenda Mwale is a young leader from Malawi. She is a Food Technologist by profession and passionate about farming and grows different horticultural crops. She is a 2017 winner for Future Africa Leaders Award, 2018 Top 100 SADC independent young leaders, 2019 Obama leader. She is also Ambassador for Malawi-Scotland Partnership and is also part of the team for Malawi National Youth Network on Climate Change and Green Girls Platform.
PASSION
Brenda is passionate in seeing youth actively involved in making our communities thrive knowing that Africa will be built by Africans. Knowing that Money is not the only tool required to achieve positive change in our communities an d that we are the ones we have been waiting for to have the Africa we want.

PROBLEM
Climate change is real and those of us in the global south are the ones being mostly affected even though our emission rate is low. Malawi is experiencing different challenges and that includes droughts, floods, heat waves which is resulting into unending hunger crises and increased death rates as well effects vast effects in the education sector.
SOLUTION
Climate change is affecting everyone and it is everyone's responsibility to fight this at all level from grassroots level. This does not consider one's environment, educational background, financial status, family background, race or age. It is our responsibility to ensure that we are taking care of the trees we plant every year to ensure high survival rate and at the same stop the use of thin plastics which result in environmental degradation, engaging in sustainable food systems, proper agricultural practices among other climate actions which we can all do to reduce effects of climate change.
You can contact me through:
E-mail: mwale.brenda@gmail.com
Facebook: Brenda Mwale
WhatsApp: +201274422070
Source: Climate Daily Effects (C.D.F) is a social media platform that share stories and solutions to climate crisis in everyday life. C.D.F is presented to you Friday of every week by LYCA 's Climate Education Coordinator Miss. Kadiatu A. Sheriff. Climate Daily Effects is an initiative of  Liberian  Youth for Climate  Actions (LYCA)
You can share your stories and solutions to us (LYCA ) through these media: Nyanfor7077@gmail.com, lycactions@gmail.com , Whatsapp (+231776882413), Follow us on Facebook @LYCActions
www.delreport.com