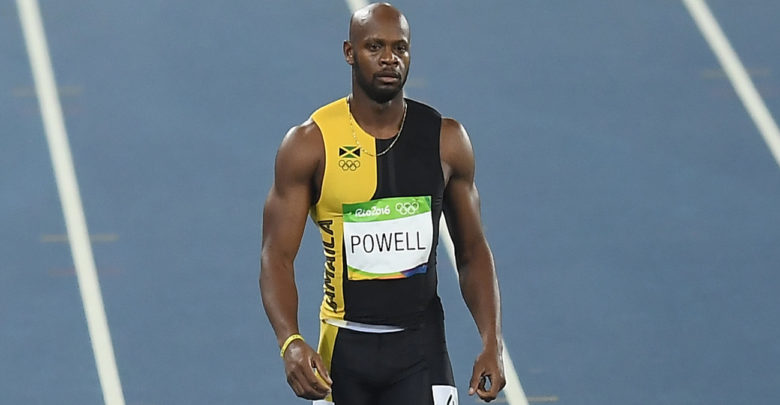 Asafa Powell, the former 100m world record holder and 2006 Commonwealth Games champion, believes a personal best is on the cards in April.
"I have not managed to hit my peak," Powell said.
"Even though I am 35 I still feel very strong, and like I can go a lot more.
"I haven't worked myself that hard. I started very late in track and field, my body is still operating as a 20-something-year-old.
"A personal best is definitely a possibility, I feel it."
Given that Powell's current PB for the 100m is 9.72 seconds, set in Lausanne in 2008, Commonwealth Games fans could be in for a treat.
Breaking the 10-second barrier is what Powell does best. The self-styled sub-10 king currently boasts an extraordinary 97 sub-10 second 100m times. Now he is targeting a historic 100.
"That is definitely my main goal (the 100 sub-10s). I have managed to start something great with this. I want to go up to 100, even over," Powell said.
"Mentally, I just have to keep my head in the game because I am getting a bit old. I have to remain hungry for these last few years, or year, of my career."
The Jamaican has fond memories of the Commonwealth Games, where he first appeared at Manchester 2002.
"I remember a lot of fun. I ran the 100m and made the semi-finals," he said.
"For me that was like I won gold. It was my first championship as a teenager. I was just having fun – I didn't have one care in the world."
The fun reached a crescendo with a silver medal in the 4x100m relay. Four years later, victory in the 100m at Melbourne 2006 kick-started the sprinter's individual career.
"It was electrifying in that big stadium – more than 80,000 cheering, calling my name," Powell said.
"Running in Australia is great – everyone loves it because of the love they give the athletes. I am looking forward to that reception."
Powell is aware he is by no means the favourite this time around, not with the quality of field assembling.
"It's pretty much a world championship without the Americans," he said.
"When you really look at it, the main athletes who are dominating the sport are going to be at the Commonwealth Games. The only country missing is the US.
"It's going to be very challenging, with [Andre] De Grasse, the Brits, the other Caribbean islands. Everyone is going to be there."
Everyone except one notable absentee: Powell's old mate, Usain Bolt.
"For as long as I can remember, Usain has been there at the championships with me," he said.
"Even though he wasn't on top way back in 2003/04, he was always there.
"He came around and he changed the sport. For someone like that to be out, you have to miss him. You definitely have to miss him."
With that sentiment in mind, Powell has no patience for those sprinters who are celebrating the fact they no longer have to race against the greatest of all time.
"If someone feels a sense of relief, it is someone who is very weak," Powell said.
"For me, I love running with him and the rivalry was always great out there on the track. I loved competing with him. Why wouldn't you want to run with someone like that?
"He has mentioned to me over the years that I am the oldest sprinter he has ever feared. He still thinks I have more in me. He knew he had a lot more in him, but he had done a lot, so (it was) time for him to retire."
Bolt's legacy is secure. For Powell, a second individual Commonwealth Games gold and that 100th sub-10 second run would be a sweet bookend to his career.
"I definitely want to be remembered as one of the greatest sprinters to have ever touched the sport. A sprinter who changed people's thinking about track and field," Powell said.
"I am making sure I leave my mark on the sport. I am heading for 100 sub-10s and people will remember me as a sub-10 king and as Asafa Powell, one of the greatest starters around."
At Gold Coast 2018, Powell will be aiming to create new memories that cement his sprinting legacy.
Tickets are still available for the Super Final on Monday 9 April, including the men's 100m final. Get your tickets now.
Great tickets are also available  for sports including Hockey, Weightlifting, Squash and Badminton.
 AMP Media.