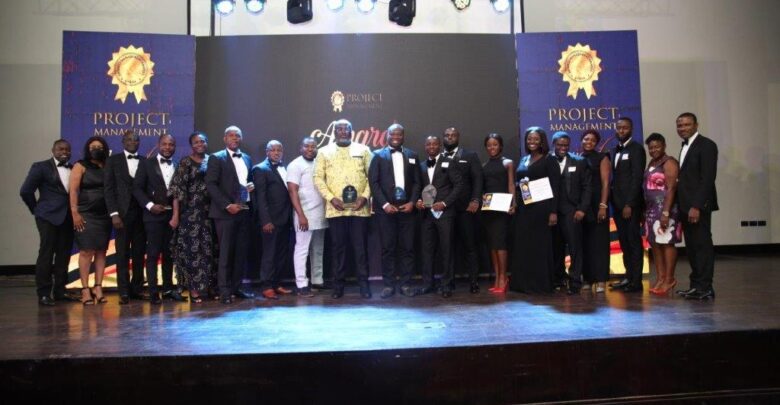 MTN Ghana has been inducted into the Project Management Hall of Fame at the 2021 Project Management (PM) Awards after it was adjudged Project Management Company of the Year for the third consecutive time.
The Project Management awards recognizes individuals and organisations who pursue best practices in economic development through projects and have attained the highest standards of professional conduct and competence within the project management space.
MTN Ghana surpassed all by winning five awards which are listed below.
Project Management Company of the Year
Economic Impact Project of the Year
Innovative Project Award
Project Team of the Year
Project Director of the Year – Mr. William Tetteh
Mr. William Tetteh, Chief Capital Projects Officer of MTN Ghana was adjudged Project Director of the Year following the significant role he plays in the overall management and execution of project portfolios in the Commercial, Capex and CEO ringfenced special projects. As the project lead in MTN, William's role starts with the project ideation through budget approval, overseeing governance of the implementation through to closure and finally benefit realization and monitoring.
In addition to the five awards, MTN received four certificates of recognition. Two of the certificates were in recognition of MTN's Bright Delivery Methodology (BDM) Industrialization strategy and for BDM Industrialization team efforts for successful projects execution. In addition, two MTN staff received Project Management Personality certificates. Jonas Nanzoninge, Senior Manager, Enterprise Portfolio Management and Emmanuel Ata-Baah, Manager, Enterprise Portfolio Management were recognized for their initiatives and contribution to MTN's projects management initiatives.
Mr. William Tetteh, Chief Capital Projects Officer expressed appreciation to the organizers for the various recognitions MTN received at the event. He said, "I am glad MTN won five awards which was the highest number and these awards attests to the well-structured Project Management Practices MTN has put in place to ensure its projects falls in line with its Bright Delivery Methodology and in conformance with professional and global management standards. As the project lead in MTN, I am challenged to go a notch higher to ensure MTN's projects are well thought through, effectively planned, well executed and are always within the project management framework and scope."
The Chief Executive Officer of MTN Ghana, Mr. Selorm Adadevoh congratulated William and the team for the great achievements attained in the field of Project management.
He said, "these awards couldn't have come at a better time than when we are celebrating our stakeholders for their loyalty to the brand over the years. As part of our 25th Anniversary celebration, MTN commits to investing in infrastructure, information systems to provide customers with an enriched digital experience. We will continue to ensure the project management team employs world class standards in executing this project".
MTN executed various special projects which were recognized at the event. MTN's use of the Bright Delivery Methodology (BDM) standardised project-portfolio management approach which focuses on delivery and benefits applicable to all projects across the business. This methodology aided MTN in winning Project Management Company of the Year, Innovative Project Award and Project Team of the Year.  The Paperless Workplace initiative by MTN in January 2020 which was put in place to support the business digitization agenda won the Environmental Impact Award.
MTN Ghana has won a total of 14 awards since the award was instituted and has consistently been the highest recipient for all three editions.
About MTN Ghana
MTN Ghana is the market leader in the increasingly competitive mobile telecommunications industry in Ghana, offering subscribers a range of exciting options under Pay Monthly and Pay As You Go Services. The company has committed itself to delivering reliable and innovative services that provide value for subscribers in Ghana's telecommunications market. Since its entry into Ghana in 2006, MTN has continuously invested in expanding and modernizing its network in order to offer superior services to a broad expanse of the nation.