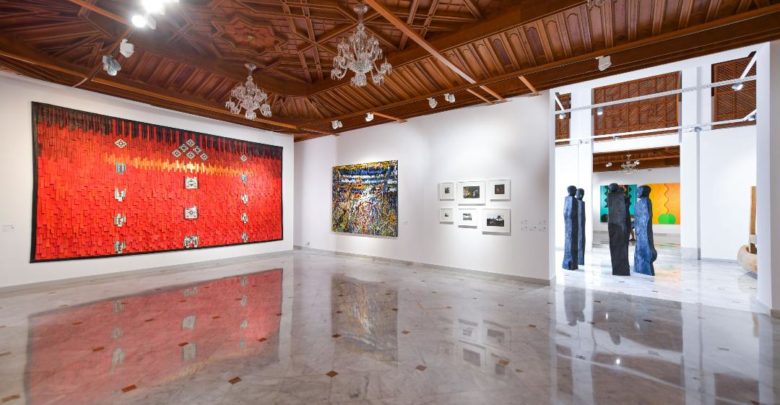 The second stage of the traveling pan-African exhibition "Prête-moi ton rêve" opens in Dakar next week!
The inauguration is at 6pm on the 6 December at the Musée des Civilizations Noires in Dakar.
Organized by the Fondation pour le Développement de la Culture Contemporaine Africaine (FDCCA), "Prête-moi ton rêve"has gathered more than fifty artworks from 28 internationally celebrated African artists, including
Abdoulaye Konaté, El Anatsui, William Kentridge, Chéri Samba, Barthélémy Toguo, and Ouattara Watts.
For the Dakar stage, the exhibition will be welcoming the addition of Bernie Searle (South Africa), Angèle Etoundi (Cameroon) and Rui Assubuji (Mozambique) to the list.
The core show has been curated by Yacouba Konaté and Brahim Alaoui, alongside the Scientific Committee of the Musée des Civilizations Noires.In parallel with the main exhibition, the museum will be hosting a tribute exhibition, dedicated to a group of Senegalese artists. The Carte Blanche exhibition will be entrusted to the young curator El Hadji Malick Ndiaye at the Théodore Monod museum in Dakar. Finally, throughout the duration of the exhibit, conferences and roundtable discussions will be organized, which will focus on the following themes:
"Deberlinisation"; "African Contemporaneity"; the pan-African paradigm of the 21st century; scientific challenges and industrial technologies of the 21st Century; "Religions and Societies"; Africa and its diasporas.The exhibition will run until January 28, 2020 before embarking on its next stopovers across the African continent. http://pretemoitonreve.com/
Click on the links below for attached documents:
http://www.datapressepremium.com/rmdiff/2008217/diff_2025028271119124121.pdf
http://www.datapressepremium.com/rmdiff/2008217/PMTRDakarPR.pdf
www.delreport.com