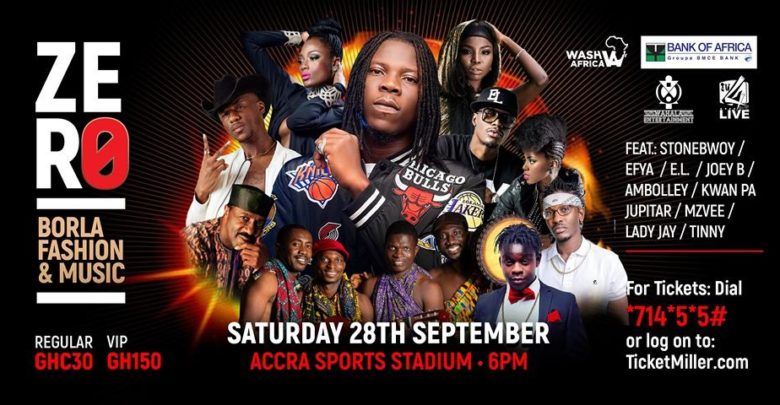 The Zero Borla Fashion & Music Show which comes up at the Accra Sports Stadium on Saturday, September 28 has attracted a lot of musicians, fashion designers and models.
The event being put up by Wahala Entertainment and Wash Africa is the talk of the town this week and many people have described the idea as laudable because it is going to entertain, educate and inform on the dangers of plastic and polythene waste.
The popular entertainers on the bill are Stone Bwoy, Lady Jay, MzVee, EL, Efya, Kwan Pa, Ambolley, Tinny, Jupiter, Joey B and others.
Tickets are going at 150ghc for VIP and 30ghc for regular and can be obtained by dialing *714*5*5# or visit TicketMiller.com. TV 4 Live and Bank of Africa are supporting the big show.
The embassies of Australia, Mexico, Colombia are some of the foreign missions that are supporting the event.
According to Wael Hakim, of Wahala Entertainment, many musicians and models have applied to perform on the show and loved the enthusiasm shown by the media who are promoting the event.
Sammy Heywood Okine, media manager of the the event said the plastic waste problem is a national problem which everyone must support to solve, and warned those who use the gutters as 'borla' or refuse dumps.
He said when it rains and the floods come, it affects everyone, so every one has a role to play. He called on Ghanaians to come to the Accra Sports Stadium on Saturday to come and watch the creativity of fashion designers and models.
By George Nipah and Clyde Narh Tetteh